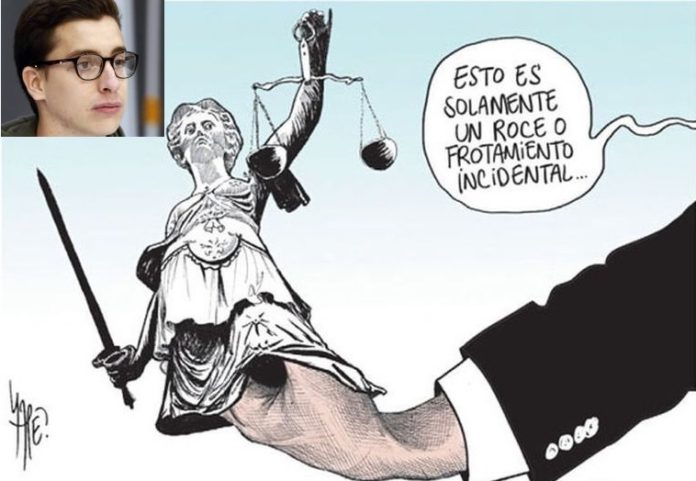 It's not just the corporate mainstream media; crooked politicians and the star-studded Hollywood luminaries also defend their high-profile child pornographers and crusade to normalize pedophilia.
The judiciary, an independent legal system highly regarded as the last avenue left for people to seek justice, is following suit. And it seems to have become the norm.
In 2015, the Southwark Crown Court cleared a Saudi millionaire of raping a teenager after he claimed he "accidentally tripped and penetrated" the girl. She was sleeping off a night of drinking on the sofa in his plush flat in Maida Vale, west London, when he 'fell.'
In 2016, the Oklahoma Court of Criminal Appeals acquitted a young man, who was charged with forcible oral sodomy, by ruling that forcing oral sex on an unconscious or intoxicated person is not rape.
In a recent shocking ruling, a Mexican judge cleared a 21-year-old wealthy Mexican of raping a teen — because he "did not enjoy it," he "couldn't satisfy his sexual appetite" and he "didn't intend to copulate."
On March 22, Judge Anuar Gonzalez Hemadi dismissed pedophilia charges against Diego Gabriel Cruz Alonso arguing that "an incidental rubbing would not be considered a sexual act without an element of intention to satisfy a sexual desire."
Alonso was accused of forcing 17-year-old Daphne Fernandez (their classmate at an exclusive Catholic high school) into a black Mercedes, sexually assaulting her in the car with his three affluent friends, and driving her to one of their homes before raping her after a New Year's Eve party in the city of Boca Del Rio, in 2015.
According to The Guardian, though Alonso was found guilty of touching the victim's breasts and penetrating her with his fingers, the judge declared that he had acted without "carnal intent" and so was not guilty of assault. Judge Hemadi, in fact, placed the onus on the girl to defend her rape, declaring she was never "helpless" because she'd changed places in the car.
"The testimony from the minor doesn't provide any indications – that is, an insinuation, obscene word, proximity, and situation – that the [defendant's] conduct was deliberate sexual abuse with erotic intentions or meant to satisfy sexual urges.
"Touching or incidental rubbing, be it in a public or private place, would not be considered a sexual act, if the element of intent to satisfy a sexual desire at the expense of the passive subject is absent. It is possible to consider that there was no purpose to copulate."
The case sparked outrage in Mexico, with the Network for Children's Rights terming Hemadi's decision "absurd," saying "the ruling represents a serious step backward in the access to justice for girls and adolescent women who are victims of sexual violence, and set a precedent for impunity."
Caso Porkys. #Veracruz #JuezPorky #porkys #JUSTICIA pic.twitter.com/tked0qr7f3

— Nerilicón (@Nerilicon) March 29, 2017
Justicia para Daphne #JuezPorky pic.twitter.com/QJB8EzFeel

— Valeria (@Valeriaggaona) March 28, 2017
#JuezPorky
Justicia jarocha.-Mored pic.twitter.com/0f21oPuolT

— @3ALAMBIQUE (@3ALAMBIQUE) March 30, 2017
El #JuezPorky ya dejó en claro la integridad de quién está cuidando. #JusticiaParaDaphne vía @erederbez pic.twitter.com/E5gMCFuQdE

— Monster (@MontseNarro) March 29, 2017
'El juez porky de Veracruz' – Rapé. #JuezPorky #Porky #LosPorkys #JusticiaParaDaphne pic.twitter.com/2ldo5Gx8FN

— Resistencia Atz (@ResistenciaAtz) March 30, 2017
Javier Fernández, Daphne's father, reacted to the ruling saying "with this legal protection anybody would be able to touch a young girl without penal consequences."
"It's inconceivable. I am surprised and angry. Two years of fighting, battling, of rowing against the current so that they conclude this. They got away with the arrest order and now they are giving him legal protection two years later. This is a joke, it's absurd."
Alonso's acquittal has enraged human rights activists as well, since the verdict reinforces the perception that men with money and political connections can walk free – even if found guilty of criminal activities. Estefanía Vela Barba, an activist on gender issues, told The Guardian:
"He sexually touched her, but because he didn't enjoy it, it's not sexual abuse? Since there was no pleasure in the act, it was intended to cause humiliation. They were touching her, they were bothering her, so for the judge, if the intention wasn't pleasure, it's not sexual assault. There's no disputing the facts. It's not some crazy woman saying this, it's coming from the judge's mouth and he's saying that if they touch you against your will, it might not be abuse."
After the widespread uproar to the bizarre ruling – which violates the rights of a sexual attack victim as well as highlighting the failure of the Mexican justice system in cases involving elite businessmen and politicians – Mexico's Federal Judiciary Council announced that Judge Hemadi had been indefinitely suspended, that he would be investigated in relation to his conduct as District Judge, and that Alonso will remain behind bars while the appeal is decided.
---
This article (Judge Acquits Affluent Rapist Because He Didn't 'Enjoy' Assaulting the Schoolgirl) is a free and open source. You have permission to republish this article under a Creative Commons license with attribution to the author and AnonHQ.com.
---
Supporting Anonymous' Independent & Investigative News is important to us. Please, follow us on Twitter: Follow @AnonymousNewsHQ