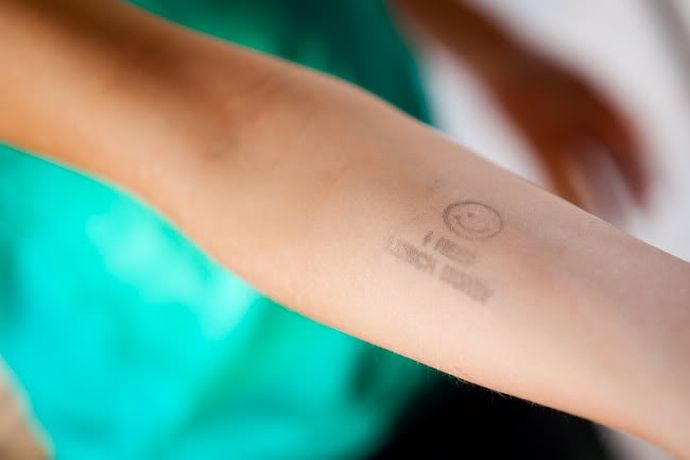 Elementary schools across the United States are resorting to bullying and branding to extract money from parents of poor students who do not have money in their lunch account, or in hand, when they are in the lunch line.
Last year, Gardendale Elementary School in Alabama was accused of stamping 'I need lunch money' on an 8-year-old boy's arm because his lunch account was running low. Jon Bivens, father of the third grader, who responded by taking his son out of school for the remainder of the academic year, told AL.com that though his son usually brought his own lunch, he sometimes bought ice cream and other treats from the lunchroom. But on the day his son was "branded" with the stamp, Bivens added, he had a balance of $1.38.
"They herd these kids like cattle. When you start stamping a message on a child's body instead of calling, it's not okay. It's a form of bullying and shaming the kids. I don't care if my son has a $100 balance. I don't care. Send me a note home or an email. Where can I draw the line regarding my parental rights?"
Gardendale's principal Laura Ware accepted that the lunchroom department emails, notes, stickers and stamps to alert parents of their child's balance, but said they "would be happy to only send emails and exclude stamps for Bivens' son, and for any other parent that wishes to do so."
Last month, Desert Cove Elementary School in Arizona was accused of stamping 'lunch money' on the wrist of a second-grader. Again, because his lunch account was running low. Tara Chavez, the mother of the boy, who usually gets a slip to notify her of his balance, told BuzzFeed that there was still 75 cents remaining in it.
"He said, 'Hey mom, I got stamped'. My kid's really weird about stuff like that, so I asked if he was given a choice by the lunch lady and he said, 'No, she just grabbed my wrist and put the stamp on'. He was screaming and crying the entire time. He was humiliated, didn't even want me to take a picture of it…"
Desert Cove's principal Stacey Orest claimed the lunchroom department is supposed to ask the students if they want a stamp or a reminder slip as "they don't want the students to be embarrassed either," but she accepted a choice was not offered to Chavez' son.
This is the stamp. On his wrist. pic.twitter.com/I0OCK8VeBa

— TECHNOprah (@juanyfbaby) April 1, 2017
Chavez's friend, Juan Fortenberry, who posted about the incident on Twitter, instantly sparking outrage, told HuffPost he hopes more schools consider how they alert parents of low lunch account balances, citing his experience as a student with free/reduced lunch:
"One thing I can never forget is always feeling lesser because I couldn't afford the 'cool' lunch items that kids would pay extra for, something like eating pizza every day. The shame of not being as well-off as your peers was like a quiet hum to me. It wasn't piercing but I was hyperaware of it."
New Mexico Outlaws School Lunch Shaming
Stamping is not the only way to humiliate and punish kids who do not have money to pay. Some schools force children to clean cafeteria tables to work off their lunch debt; others force the hungry kids to throw their meal away.
But New Mexico has taken an important step toward reducing the stigma kids face around lunch money by ending the practice of lunch shaming altogether. Senator Michael Padilla, who used to trade his mopping skills with cafeteria workers to pay off his parents' balance, has passed a new bill that "protects students from stigma in the cafeteria and provide guidelines for school districts to collect unpaid meal debt."
We have started a movement! No more #lunchshaming! This is how change is made. This is New Mexico Appleseed! https://t.co/RhnyjORCmu

— New Mexico Appleseed (@NMAppleseed) April 11, 2017
Among other provisions, the bill mandates schools to serve meal to students whether they have money to pay or owe money. It also requires schools to take steps to certify the family for free or reduced-price meals if a student owes money for five or more meals; and orders schools to refrain from using stickers or hand stamps, or forcing the students who cannot pay for a meal to do chores.
---
This article (Lunch Shaming: Schools In America Stamping 'I Need Lunch Money' On Poor Kids' Arms) is a free and open source. You have permission to republish this article under a Creative Commons license with attribution to the author and AnonHQ.com.
---
Supporting Anonymous' Independent & Investigative News is important to us. Please, follow us on Twitter: Follow @AnonymousNewsHQ