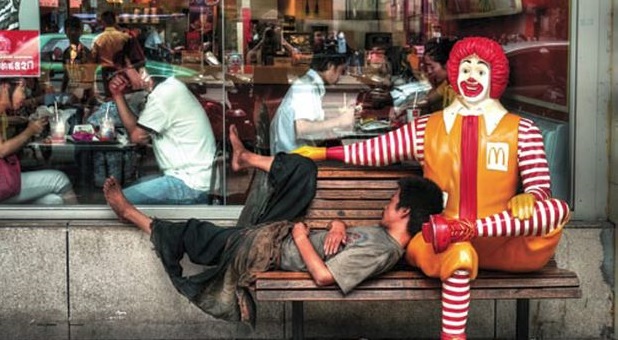 Has the fast food giant banned its customers from buying food for and by the homeless? Though the company's corporate headquarters insist that this is not an official policy, two recent incidents tell a different tale.
27-year-old Daniel Jackson was almost denied service at a McDonalds joint on Oxford Road in Manchester because he was wearing dirty clothes and the staff thought he "looked homeless".
Gardener Daniel Jackson was wearing outdoor work clothes when he was initially denied service at the McDonald's… http://t.co/ncIH80U3Fp

— Police Alerts UK (@PoliceAlertsUk) May 8, 2015
"I'd just clocked off work and I was absolutely ravenous. I'd not eaten since breakfast so I thought I'd go to McDonald's for a quick meal. But when I got to the till the cashier went to get the manager from the back. He then said he wasn't going to serve me because I looked homeless. I explained to him I had been at work all day but he said they had a zero tolerance policy on serving homeless people," Jackson told Manchester Evening News. "It took some serious persuasion to convince them I wasn't homeless. I admit I was wearing scruffy clothes because I'd been working outside all day. That's no reason to assume I live on the streets. I'm angry that I had to justify myself in front of a massive queue of strangers. Yet what I find most disgusting is that policy like that even exists. It completely victimises homeless people. Surely if you have the money in your hand and you want to purchase a meal, you should be treated like any other customer," he added. Charlotte Farrow, a 19-year-old girl, visited that same McDonalds to buy food for a homeless man. She was also denied service and told that it was their policy not to serve homeless people.
McDonald's refuses to let teenager buy elderly homeless man breakfast because of 'new policy' http://t.co/qPqdhFl2AB pic.twitter.com/13iIk7LRjp

— The Independent (@Independent) May 20, 2015
"We queued up and the homeless guy tried to get some money out before I told him I was paying. Then the supervisor said 'we don't serve homeless people'. He said the business manager told them they weren't allowed to serve homeless people. They said it was a new policy," Farrow told Manchester Evening News.
"It was his attitude towards the guy – we were both customers so there shouldn't be any difference. I think it's absolutely awful and completely immoral. We're all human beings. I wouldn't expect to be treated like that. If they're refusing to serve homeless people it's extremely judgemental," she added.
When McDonald's spokesperson learned about the incident, they apologized for the confusion. "We welcome all customers through our doors and work hard to create a friendly and welcoming environment for all. We can confirm that it is not McDonald's policy to refuse to serve homeless people and apologize for any confusion caused. We will be reiterating this policy to all team members," the spokesperson said.
McDonald's denies it has a policy of not serving homeless people, after twice apparently refusing to do so http://t.co/qlS6WrplwK

— Paul Lewis (@paullewismoney) May 20, 2015
"The story isn't true, both people quoted were served, McDonald's does not have policy about not serving homeless people," McDonald's clarified on Facebook.