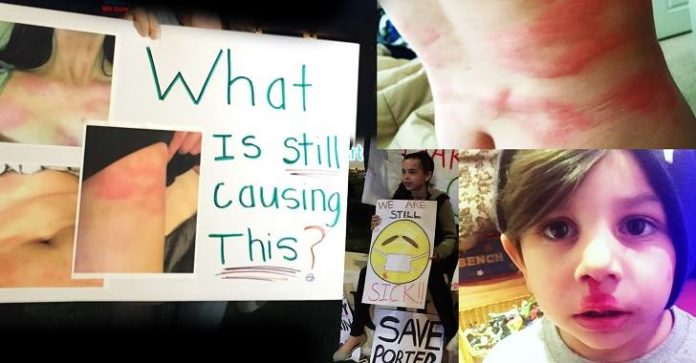 by Carey Wedler at theantimedia.org
A year after the largest methane leak in U.S. history was sealed in Porter Ranch, California, residents are continuing to experience significant adverse health consequences. As SoCalGas — the company responsible for the blowout — uses fabricated gas shortages to justify reopening the Aliso Canyon gas storage facility, which has been shut down indefinitely since the leak occurred, a local doctor is now speaking out.
Dr. Jeffrey Nordella has been treating Porter Ranch residents since the blowout of an underground methane storage well caused tons of methane gas to spewing the atmosphere in October 2015. A total of 5 billion cubic feet of methane was released into the atmosphere from October 23 to February 18, "or enough pollution to match the annual output of nearly 600,000 cars," The Guardian noted shortly after it was sealed.
Though the leak was sealed last February, residents have continued to complain of symptoms. Though some local news outlets have provided consistent coverage of the disaster's aftermath, most national outlets stopped covering the story after the blown-out well was closed and, consequently, the immediate drama of the story subsided.
But Nordella says that since the gas leak began, he has been inundated with patients of all ages.
Dr. Nordella with Porter Ranch Quality Care discuses findings on health problems facing the north San Fernando Valley after the gas blowout at Aliso Canyon.

Posted by Alexandra Nagy on Wednesday, February 8, 2017
"Those symptoms were broad but yet had a common denominator. Eye and nasal irritation, headache, nosebleed, sore throat, loss of voice, cough, shortness of breath, palpitations, nausea, vomiting, diarrhea, fatigue, and skin rashes were among the most common," he said during a press conference at his urgent care facility last Wednesday.
According to the local Daily News:
"He's seeing abnormal pulmonary functions among some of those patients, and low red blood cell counts in others. He's reviewed the files of residents whose family members died and said he's seen a rare case of anemia that can be connected to toxic exposure."
Nordella says the symptoms he's seen in patients are "clearly different from those with a common upper respiratory tract infection, seasonal allergies, sinus infections, and viral bronchitis." He also said multiple contaminants could be causing the variety of health issues.
The State of California thinks that the So Cal Gas Porter Ranch/Aliso Canyon facility is safe to resume operations?This just happened JUST NOW THIS MORNING at 11AM, February 1, 2017 on the day of the hearings that are part of the decision on opening the facility or not. Here is your answer:#SoCalGasBlowout #SoCalGas #SempraEnergy#SavePorterRanch

Posted by Save Porter Ranch on Wednesday, February 1, 2017
According to Nordella, patients who evacuated Porter Ranch experienced relief from their symptoms only to endure them again upon moving back into their homes. He also said one family, who moved away permanently, experienced continued skin rashes when they came into contact with belongings from their Porter Ranch home. He believes this indicates contaminants from the blowout may still be coating the interiors of residencies in the area.
Porter Ranch locals have feared the effects not only of methane, but also mercaptans — odorants added to natural gas to alert those nearby to its presence — and benzene, a carcinogenic substance found in the atmosphere during the leak (officials have asserted that though benzene levels were elevated during the leak, they were similar to what the rest of the city of Los Angeles is normally exposed to). Other substances released included toluene, ethylbenzene, and xylenes, which are known to cause a range of symptoms.
Residents have referred to the decades-old facility as a "dinosaur," and many in the area have continued to smell mercaptans in the air as they experience ongoing symptoms  — over a year after the leak was sealed.
Because of these factors and the gas company's ongoing attempts to re-open Aliso Canyon, Nordella felt compelled to speak out. As he told Anti-Media:
"I will admit… that it was a little bit concerning that they were moving at such a rapid pace, wanting to re-pressurize these rock beds, so I figured that we would move forward prior to that."
During his press conference, he clarified that he has not been contacted by "anyone from the gas company or Sempra," has "not been retained by any law firm," and has had "no communications with politicians." He is also not affiliated with Save Porter Ranch, the community activist group created out of safety concerns before the massive leak even occurred. That group is fighting for a total shutdown of the facility.
Nordella initiated a health screening for patients presenting symptoms, and though he admits his sample size is small — about 50 patients — he is calling for independent research into the effects of the leak, saying he cares about "the people, the patients, and the science."
"I will not deviate from the people. We all know about the potential politics here. I want to make sure that this is neutral, clean, and it's done properly," he said, suggesting a study be conducted by researchers outside of California to achieve these goals.
Some California lawmakers are working to pass S.B. 57 within the state, which would shut down the facility "until [a] comprehensive review of the safety of the gas storage wells at the facility is completed" and the cause of the blowout can be determined. But politics-as-usual has riddled efforts to mitigate the effects of the catastrophe, which could be seen from space at its peak. Governor Jerry Brown, who often claims to champion environmental issues, waited two-and-a-half months to declare a state of emergency over the blowout, which forced thousands of evacuations and doubled Los Angeles' greenhouse gas emissions by releasing nearly 100,000 metric tons of methane. His sister sits on the board of directors for SoCalGas' parent company, Sempra Energy.
The Southern California Air Quality Management District (SCAQMD) has also been accused of failing to sufficiently serve Porter Ranch residents. The agency recently settled a lawsuit filed by state regulators over its handling of the gas leak. In that agreement, they agreed to pay $1 million for a health study to determine the effects.
But residents are dissatisfied with that outcome. "What should have been a $40 million long-term health study is only a $1 million health risk assessment," asserts Save Porter Ranch.
"It's a study, but not a health study," said Angelo Bellomo, the Los Angeles County deputy director for health protection at the Department of Public Health. "It is not responsive to addressing the health needs and concerns to this community. More importantly, it's inconsistent with advice given to AQMD by health officials."
The Department of Public Health (DPH) has disappointed residents over its lack of attentiveness and apparent incompetence throughout the ordeal. As Nordella said:
"I anticipated our politicians, Department of Public Health, and community leaders would act and recruit the appropriate parties to investigate so that the short- and long-term health effects could be revealed, but to no avail. Instead, what I received from DPH was, in my opinion, misguided information."
Even DPH has acknowledged the study SCAQMD is funding was supposed to have cost up to $40 million, admitting its limitations.
Nordella says he has managed to schedule a meeting with DPH and has informed them the community's trust in authorities is waning.
He has vowed to remain independent as he continues to advocate for patients.
In the meantime, SoCalGas is still fighting to reopen the facility, going so far as faking a gas shortage ahead of a public hearing on Aliso Canyon's status. As a result, they withdrew gas from the facility for the first time since January 2016. The company has been caught deceiving residents and regulators on multiple occasions, including denying the blowout when concerned citizens called their hotline in the early days of the crisis.
For now, those seeking to keep the facility closed are gaining ground. S.B. 57 was approved late last week by the state's Senate Natural Resources and Water Committee, and according to Save Porter Ranch, Democrats now officially support it.
As Nordella said during his press conference:
"Until a study is completed … it is nothing short of an act of negligence to reopen the Aliso Canyon facility. The people of the community deserve better. I'm extremely concerned that I've just scratched the surface and that there are other significant medical cases within the community."
In contrast, SoCalGas claims "There is no dependency on or need to wait for the results of the Root Cause Analysis. SoCalGas has demonstrated that the field is safe to resume injection operations," according to its website.
Nordella, however, is adamantly opposed to reopening Aliso Canyon because of the health risks it poses.
"As a doctor, my interest is very high on making sure that this did not make the residents of the community sick," he told Anti-Media. "If it did, they should shut it all down and abort these fields. They should not move forward — should not move forward — and repressurize this system until we find out the health effects of the first blowout."