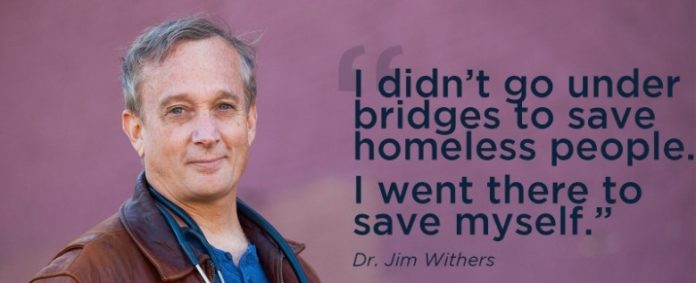 What started off as a one-man mission in 1992, to provide "free medical treatment to the homeless where they live" under bridges, in alleys, beneath highway overpasses and along riverbanks – has since grown into Operation Safety Net. Operation Safety Net is a national network of homeless outreach workers and medical volunteers. Part of the Pittsburgh Mercy Health System and Trinity Health, Operation Safety Net is today recognized as one of the United States' first targeted, full-time street medicine programs.
Dr Jim Withers, an internal medicine physician, is that one man who joined Mike Sallows 24 years ago, a guy with seven years of homeless experience; to deliver healthcare to the most ostracized people in Pittsburgh. For the past 24 years, Dr Withers, along with Sallows — who allowed Withers to join his street patrols only if he agreed to "not dress like a doctor, and not act like a jerk — has been making "house calls" to those without homes. Since the operation commenced it has reached more than 10,000 individuals and helped more than 1,200 of them transition into housing.
Dr Withers shared his experience with The Huffington Post:
"Literally, I started dressing like a homeless person and sneaking out at night with a guy who used to be homeless. As far as why, that had a lot more to do with my concern for the way we treated other people. As a medical educator, if I could find a new classroom where we could be forced to come to grips with people outside the system, for me, that required a complete plunge.
"The first thing that hit me was the number of people squirreled away under bridges and campsites. The level of fear and bitterness towards the medical community and general community hit me full blast. As I began to look at the medical issues, I began to realize there were people with bad wounds, unhealed ulcers, cancers and all kinds of things that weren't being addressed."
24 years is a long time to practice street medicine and stay motivated amidst everyday adversities and challenges. What inspires Dr Withers to keep moving? He tells Next Pittsburgh:
I like going into nature. I like the parks we have here in Pittsburgh and I have a good buddy with a cabin in the mountains, so I like going there. I like to read books that have to do with how we see the world. So it may be the same sort of activity that I'm doing in my work but I just don't seem to get enough of it.
For bringing healthcare to the homeless where they live as well as fostering a global street medicine movement, CNN named Dr Withers as one of its Top Ten Heroes of 2015.  What's his hope for the future? He tells CNN:
"In the way I'd like to see things, every person who is still on the streets will have medical care that comes directly to them and says, "You matter". And I'd love to see every medical school have a classroom of the streets.
"I've dedicated myself as much as I can to finding anyone, anywhere, who's interested in doing medical care to their own street people and helping them. Besides just the good that it does and the money that it saves, having street medicine in every community transforms us. We begin to see that we're all in this together. It's something that we should take pride in when we can actually treat people the way we would want to be treated."
Dr Withers' also runs a nonprofit organization, the Street Medicine Institute, which provides medical care directly to those living and sleeping on the streets through mobile services such as walking teams, medical vans and outdoor clinics. According to its website:
Street medicine has become a global movement.  Since Dr Withers first connected with Dr Jack Preger in Calcutta in 1993, a network of over 80 communities [across 6 continents] practicing street medicine has emerged.  It is essential that these communities support each other.  These practitioners are largely "homeless" themselves in the medical community.  Not only is the practice not recognized, but the values they hold that prioritize the value of the most vulnerable are also not embraced by main stream health care.
The essence of street medicine is the Golden Rule – doing unto others as we would have others do to us if we were in their shoes.  This requires us to believe others are worthy enough to deserve our compassion … and we are ultimately connected as brothers and sisters.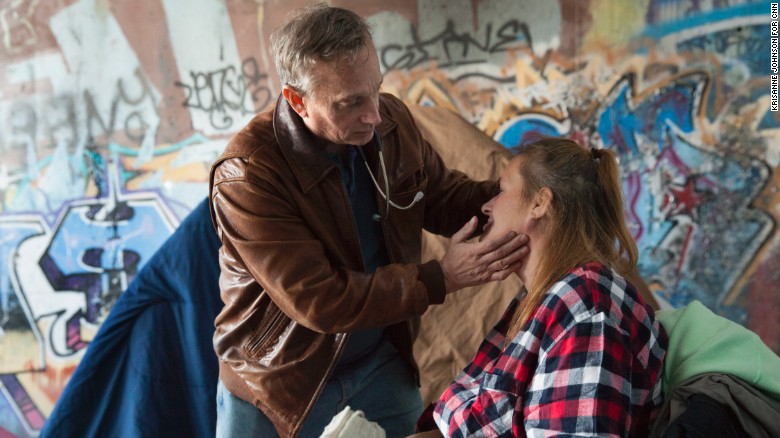 ---
This article (Meet the Doctor Treating Pittsburgh's Homeless for over 20 Years) is a free and open source. You have permission to republish this article under a Creative Commons license with attribution to the author and AnonHQ.com.