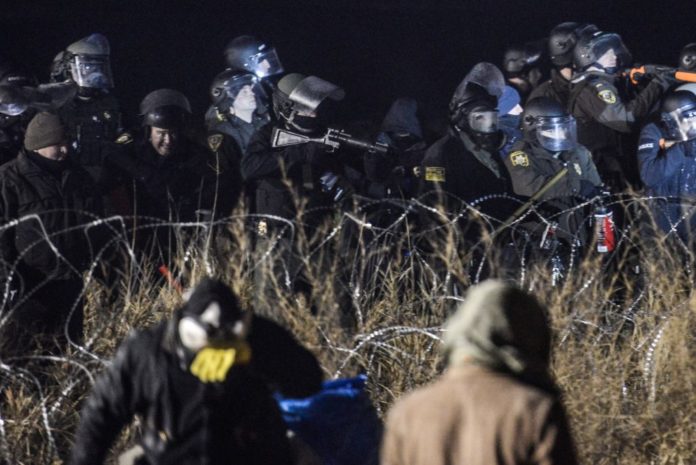 On Martin Luther King Jr. Day, North Dakota law enforcement and the National Guard, in riot shields and military gear, fired rubber bullets, pepper spray, tear gas and less-than-lethal projectiles against a group of nearly 200 unarmed Standing Rock protestors during a prayerful, peaceful walk to the fenced-off Dakota Access Pipeline (DAPL) horizontal drill pad.
Three protestors, who were taken into custody on Monday for criminal trespassing onto private property, inciting a riot and resisting arrest, were accused of cutting security wire, removing fencing material and dismantling lights that are used to illuminate a bridge near the confluence of the frozen Cannonball River and the Missouri River, the Morton County Sheriff Department said in a statement.
Even though the Army Corps of Engineers halted construction on the $3.7 billion controversial energy project last month, the latest violent standoff is a reminder that the fight is far from over.
The Grand Forks Herald reported that a number of protestors cited Martin Luther King Jr. Day — the holiday honoring Martin Luther King Jr., who dedicated his life to non-violence, sparking drastic change on the issue of civil rights — as the impetus for their actions.
Others told The Guardian, the peaceful walk toward the pipeline drill pad and to the Backwater Bridge was carried out to protest the law enforcement's refusal to reopen the bridge, which has damaged the Standing Rock Sioux tribe's economy and cut off access to emergency services.
Nataanii Means, a 26-year-old member of the Oglala Lakota tribe, who filmed the confrontations, said:
"At the bridge, police eventually fired rubber bullets and copious amounts of tear gas. It was a lot of violence for unarmed water protectors that had a barricade between them and the police. After facing extensive tear gas, I fell on all fours. I was vomiting. I couldn't see.
"I fear police would be emboldened to escalate tactics after Trump steps into office, but indigenous people would continue to respond with peaceful actions. We're acting in prayer. I don't know why they keep reacting in violence."
Irina Lukban, a 22-year-old DAPL protestor who was hit in the head by the shield of a National Guard soldier and likely suffered a concussion, added:
"It's gratuitous. It's just so excessive. It's incredible to see that amount of force. I don't understand why anybody who is praying would be pepper sprayed or shot in the face."
Rob Keller, spokesman for the Morton County sheriff, said the protestors arrested a range of charges including trespassing, rioting, fleeing, assaulting an officer and preventing arrest:
"Less than lethal weapons were used when the protesters were given multiple orders and warnings to move back. Police have not received reports of serious injuries, but an ambulance was called to assist two people arrested – one with a minor cut and one affected by pepper spray."
Protestors also spotted two surface-to-air anti-drone missile-launchers deployed by the North Dakota Army National Guard, located on top of a hill guarding the DAPL drill pad. While the North Dakota Guard spokesman William Prokopyk insisted the missile systems are used strictly in the observation role to protect private property and public safety, the protestors were not convinced: What possible reason could police and military have to justify the use of a short-range missile defense system against unarmed protestors trying to protect a Native American water supply?
In response to actions taken by Black Lives Matter activists and opponents of the Dakota Access Pipeline, Republican legislators across the country have quietly introduced a number of proposals to criminalize and discourage peaceful protest.
In North Dakota, for instance, a bill was introduced last week to allow motorists to run over and kill DAPL protestors obstructing a highway as long as a driver does so accidentally. In Washington, a bill was introduced to reclassify as a felony civil disobedience protests that are deemed "economic terrorism."
---
This article (MLK Day Horror: Heavily Armed Police Open Fire on Unarmed DAPL Protestors) is a free and open source. You have permission to republish this article under a Creative Commons license with attribution to the author and AnonHQ.com.
---
Supporting Anonymous' Independent & Investigative News is important to us. Please, follow us on Twitter: Follow @AnonymousNewsHQ