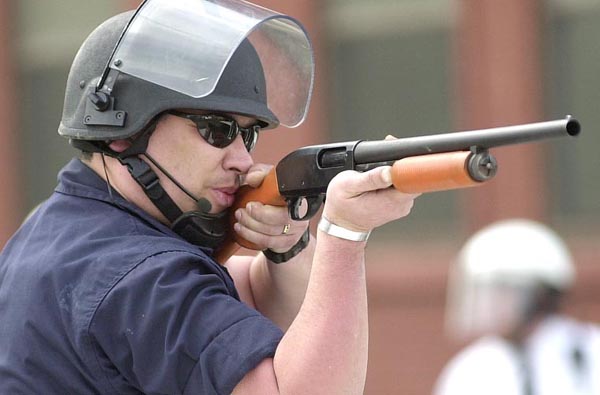 Written  by Cassius Methyl at theantimedia.org
These two incidents have to be among the worst stories of police murder since nationwide protests escalated in late 2014 following the killing of Mike Brown in Ferguson, MO.
Around 6:30 p.m. on Thursday evening, a 17 year old girl walked into a Longview, Texas police station. She was apparently unarmed, but she did not come out alive. Police shot her dead in their own department headquarters, in the presence of countless other people who could have subdued her if she posed a serious threat.
Kristiana Coignard picked up a department phone to speak to an officer after hours, and moments later she was shot dead.
She allegedly 'came at officers with some sort of weapon'. It was originally reported to be a knife, but there is no evidence to back that up, and clearly no motive for her to do this.
There is zero evidence to back up this claim that she was armed, and knowing that the police would do anything in their power to justify their murders, they would immediately release evidence if there were any, so there must not be any evidence to back this up.
The audio recording of the incident has not been released. The video of this incident has not been released.
A quote from an article about this says,
"Also a mystery is why the teen, a former student in Longview's Pine Tree Independent School District, would have attacked the officers with some sort of knife or other weapon.

Equally puzzling is why three police officers believed that they could not defend themselves against a lone teenage girl, who was apparently not armed with a gun, without shooting her dead. "
Not only was this girl murdered on Thursday, but early Monday morning,Denver police killed an unarmed 16 year old girl who was driving 'a stolen car', dropping off a friend at her house. It has not been specified who the car belonged to, but it probably belonged to one of their parents.
The young girls allegedly 'hit an officer with her car', but the officer is only afflicted with a 'possible broken leg'. That means his leg is not broken, it would be evident if it were. It's nothing but disrespectful and disgusting for the officer to play the victim.
The mother of one of the girls in the car was restrained, 'to calm her down'.
A person was told 'don't you dare' by police, trying to record the incident.
The restrained mother could not rush to the scene and examine the car full of very young girls who watched their friend get murdered by police in front of them. The police just wanted to 'calm her down', so they restrained her.
Police involved in both these incidents were 'placed on administrative leave' (paid vacation), and like usual, there are no charges against them yet.
I highly recommend you do further research on your own into these two incidents, and put the pieces together for yourself. These killings were undeniably unnecessary and  psychopathic, and that is evident in every last detail of these stories. As more details come out, I'm sure they will paint the same picture.
Please share this with beyond as many people as possible; the public  awareness of these two senseless murders is entirely dependent on us getting the word out. For the sake of the deceased and their families, please don't forget about these horrific murders. This has to stop. We can't be desensitized by the continuation of nationwide police murders. What are we going to do about this? It's time to think about that. It's not enough to just talk about it anymore.
Get Your Anonymous T-Shirt / Sweatshirt / Hoodie / Tanktop, Smartphone or Tablet Cover or Mug In Our 
Spreadshirt Shop
! 
Click Here