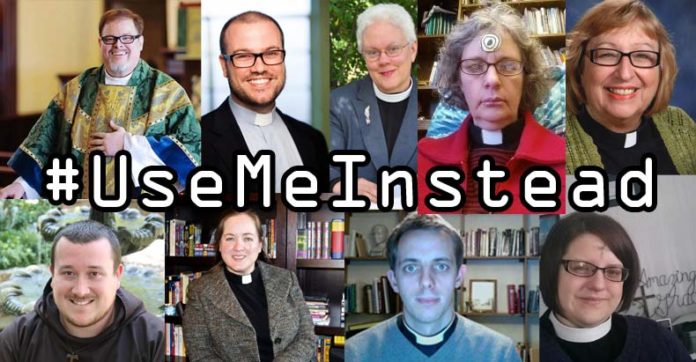 How will you react if you see your brother's mug shot being used for target practice by the police? National Guard Sgt. Valerie Deant was aghast and cried a couple of times after she saw her brother Woody Deant's mug shot, taken 15 years ago, among the bullet riddled pictures of five African-Americans being used as targets by North Miami Beach Police snipers at a shooting range in Medley, Florida.
"I was like 'why is my brother being used for target practice?'"Deant told NBC South Florida. "The picture actually has like bullet holes. One in my forehead and one in my eye…I was speechless," Woody Deant was outraged, "I'm not even living that life according to how they portrayed me as. I'm a father. I'm a husband. I'm a career man. I work 9-to-5".
Family outraged after North Miami Beach Police use criminal photos as #HumanTargets. VIDEO: http://t.co/0hzALWdpdW pic.twitter.com/zJ7HFGntNB

— NBC 6 South Florida (@nbc6) January 15, 2015
North Miami Beach Police Chief J. Scott Dennis admitted that his officers could have used better judgment, but denies any racial profiling. He also defended the department's use of images of real people:
Dennis' excuse that 'the sniper team had minority officers as well' wasn't enough for a group of clergy members who found the behavior heinous and reprehensible. "Our faith teaches us that all human life is sacred. And when human life is devalued, Jesus teaches us to put ourselves in the place of those whose humanity is denied, just as he did," the pastors wrote on the Evangelical Lutheran Church in America's Facebook page.
Later, members of the clergy created the hashtag #UseMeInstead on Twitter where pastors offered their own mug shots to be used as targets to force the police to think twice before pulling the trigger. "The point of the campaign was to inspire compassion, "motivated by our service to Christ and his call to love our neighbors," Rev. Joy M. Gonnerman told The Washington Post.
Hello @myNMBPolice, heard about how you target practice. Not cool. #BlackLivesMatter , please #usemeinsteadpic.twitter.com/F0iD46ujxA — celticwander (@celticwander) January 18, 2015
#usemeinstead (I'll make it easy for them.) pic.twitter.com/0IvOhLNfL3 — PrJGonnerman (@JoyGonnerman) January 17, 2015
Hang on — let me get one with my collar on — okay, NOW #usemeinstead for target practice because #BlackLivesMatter. pic.twitter.com/l70jGM2301 — Your Old Pal (@fathertorey) January 18, 2015
Police officers, as a white man, I've been taught that I have nothing to fear from you. #UseMeInstead. Please. pic.twitter.com/KW1XNXMOyL — Jason Chesnut (@crazypastor) January 18, 2015
Dear @myNMBPolice if you insist on using photos for target practice, don't use young black men #UseMeInstead pic.twitter.com/haCqMJKvdO — Ruben Austria (@rubenaustria) January 25, 2015
My brothers and sisters at @myNMBPolice, feel free to #usemeinstead. Don't aim for the baby though. God bless you. pic.twitter.com/gVapwHMELZ — Christopher Arnold ن (@fr_christopher) January 18, 2015
North Miami Beach police: If you must use photos of real people for target practice, please: #UseMeInstead pic.twitter.com/8bkgtLapqN — Lauren R. Stanley (@laurenrstanley) January 25, 2015
Astonished @myNMBPolice use photos for targets. You do know you're supposed to uphold the law, right? #usemeinstead pic.twitter.com/DViLN9cxng — Graeme Fancourt (@graemefancourt) January 18, 2015
.@myNMBPolice You have a difficult job. Just like clergy, you are not above reproach. #usemeinstead pic.twitter.com/nooqRvdm08 — Sean (@FrSeanFerrell) January 18, 2015
After seeing the targets used @myNMBPolice for sniper practice… #usemeinstead pic.twitter.com/r6q8fKasqj — Bruce Reyes-Chow (@breyeschow) January 18, 2015
If you must use pictures real humans for target practice, for the love of God, #usemeinstead pic.twitter.com/89sKB2v5yF — Lura Groen (@lura_groen) January 18, 2015
Grateful for those in law enforcement who treat it as a public trust, I invite them to #usemeinstead of black youth. pic.twitter.com/ULCt5cOelu

— Erik Christensen (@erikchrist1973) January 18, 2015
Feel free to use my photo for target practice. @myNMBPolice #UseMeInstead pic.twitter.com/BhqJSvbdqm

— Jenna Couch (@PastorJenna) January 18, 2015
The Rev. Bettie Kennedy, longtime Civil Rights activist in Texas, asked me to share her photo and say #usemeinstead pic.twitter.com/KIiNoFnv86

— Ashley Cook (@joyfulpriest) January 18, 2015
.@myNMBPolice I'm very thankful for the work of law enforcement. Please #usemeinstead since #BlackLivesMatter . pic.twitter.com/PN1psa1l6p

— Anne Lane Witt (@VaPriestess) January 18, 2015
"Essentially, we're saying: We're watching, we're paying attention to this…It's such a desensitization thing, that if you start aiming at young black men, and [are] told to put a bullet in them, you become desensitized. Maybe, to change the picture, it's 'you know what, dare ya, shoot a clergy person," Gonnerman added.
Sources:
http://www.mic.com/articles/109158/police-used-mugshots-of-black-men-for-target-practice-these-clergy-had-the-best-response
http://www.nbcmiami.com/news/local/Family-Outraged-After-North-Miami-Beach-Police-Use-Criminal-Photos-as-Shooting-Targets-288739131.html