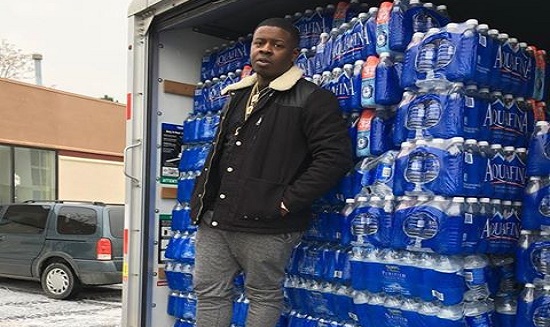 by John Vibes at trueactivist.com
In recent months, it has been exposed that the government in the city of Flint, Michigan was responsible for serving its citizens water that had elevated levels of lead. Citizens have been complaining about the conditions for some time, but the crisis was ignored by both the local government and the EPA.
Luckily, help has come from a large variety of private donors who are pitching in what they can to help with the crisis. As we reported last week, the Michigan chapter of international Muslim organization Who Is Hussain? pledged to donate 30,000 bottles of water to the town.
This week, many successful rappers are hearing the news of what is happening in Flint, and are wanting to get involved. Rappers Meek Mill and 50 Cent brought the Flint water crisis into their ongoing beef, when Meek Mill challenged 50 Cent to match his large donation to the town.
In a Twitter post, Meek Mill said:
"I got 50k to donate to waters. Let's see if we can have @50cent match me! I'm pretty sure "flint" supported us! Serious post contact …. Roc nation will purchase for me and ship! Not even just him all entertainers! I ain't got the tine posting memes and shit… "Way too trill for that" @dallaslifestyle it's my dawg hometown too! #FORMLKDAY."
Meek Mill donated 60,000 bottles of water and challenged his rival to do the same, however, the newly bankrupt 50 Cent declined.
"Even a ?Head knows we are supposed to help out Flint Michigan. I'm a ambassador for feeding America, I'm working with the United Nations world food program. I'll find out what are the right organizations to donate to. It's a tax right off anyway ?" 50 Cent wrote.
Another rapper named Blac Youngsta actually rented a Uhaul and physically filled it up with as many bottles of water as he could and is currently on his way to Flint. Other rappers like P Diddy and Big Sean have also made donations to Flint in their time of need.
---
This article (Many Rappers Are Stepping Up To Donate Water And Money To Flint Michigan) is free and open source. You have permission to republish this article under a Creative Commons license with attribution to the author and TrueActivist.com.
John Vibes is an author and researcher who organizes a number of large events including the Free Your Mind Conference. He also has a publishing company where he offers a censorship free platform for both fiction and non-fiction writers. You can contact him and stay connected to his work at his Facebook page. You can purchase his books, or get your own book published at his websitewww.JohnVibes.com.