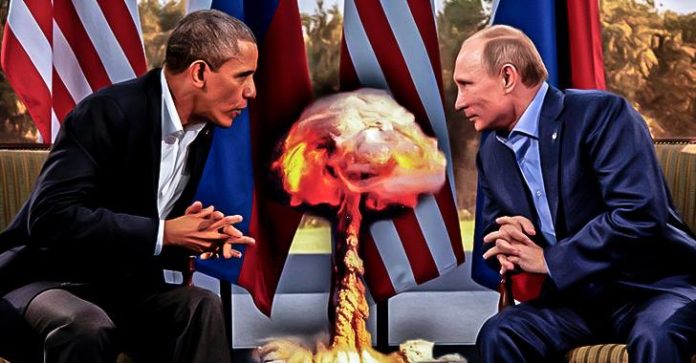 (ANTIWAR) With tensions between the US and Russia on the rise, the Russian government today withdrew from thePlutonium Management and Disposition Agreement, a treaty which had the two countries reducing their respective stockpiles of excess weapons-grade plutonium, converting it into fuel for power plants.
The Russian Foreign Ministry said the move reflected the Obama Administration having destroyed "the atmosphere of trust which could have encouraged cooperation," and Russian President Vladimir Putin issued a series of conditions for Russia's return to the pact.
Putin's conditions were seen as largely just a list of long-standing grievances with the US, and included a demand for the US to remove sanctions against Russia over Crimea, as well as for the US to dramatically reduce its military presence in Eastern Europe, seeking a return.
The withdrawal from the pact itself is largely symbolic, with officials saying they didn't believe the treaty was necessary anymore and that Putin was just punctuating that fact with the formal withdrawal.
Related articles:
---
This article (Russia Withdraws From Nuclear Agreement, Citing US Distrust) by Jason Ditz, originally appeared onAntiWar.com and was used with permission. Anti-Media Radio airs weeknights at 11pm Eastern/8pm Pacific. If you spot a typo, email [email protected].