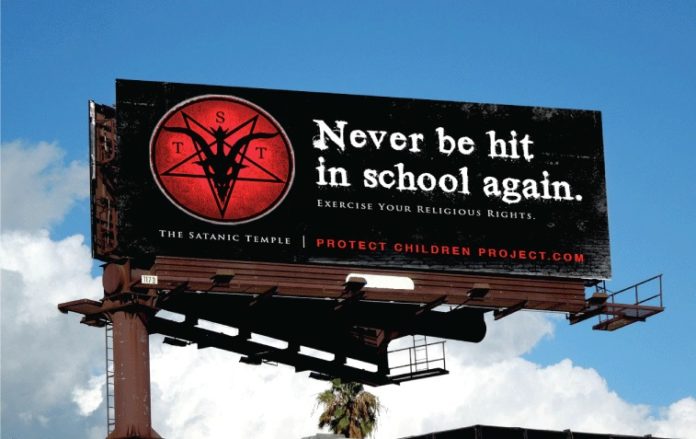 –SPRINGTOWN, Texas has found itself centre of attention after a billboard was erected in mid-March targeting schools who condone corporal punishment against the child. The sign has caused controversy, with some confused about The Satanic Temple (TST) standing up for the rights of children.
The first of many billboards was erected in Springtown for its policy to "routinely hit children," the Satanic Temple website states.  "We are putting the worst school districts on notice by posting billboards near their schools announcing that students no longer have to be subjected to their sadistic practices. The billboards also broadcast to the rest of the world how sickeningly shameful these schools are."
However, Superintendent Michael Kelley of Springtown is confused by its timing, saying that the policy of corporal punishment is restrictive and hasn't been an issue since 2012.
In 2012, the corporal punishment policy was changed for the Springtown school district after a male assistant principal spanked two female students. Since the incident, a new policy was implemented after Kelley pushed for a change to allow opposite-sex employees to administer corporal punishment but only if written consent was given by the parents.
Kelley stated to the local news outlet that this hasn't occurred for three years, and the last time it did, it was requested by a guardian against a male student. Kelley also said the administrators have "opted not to use" the policy even though they're permitted; justifying the policy further by saying parents are only permitted to request corporal punishment against their child once per semester.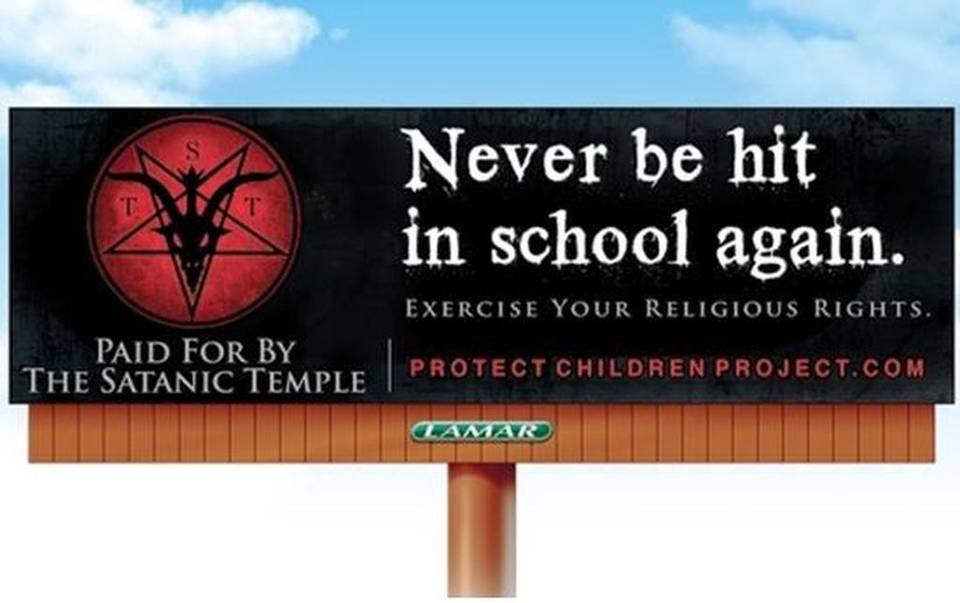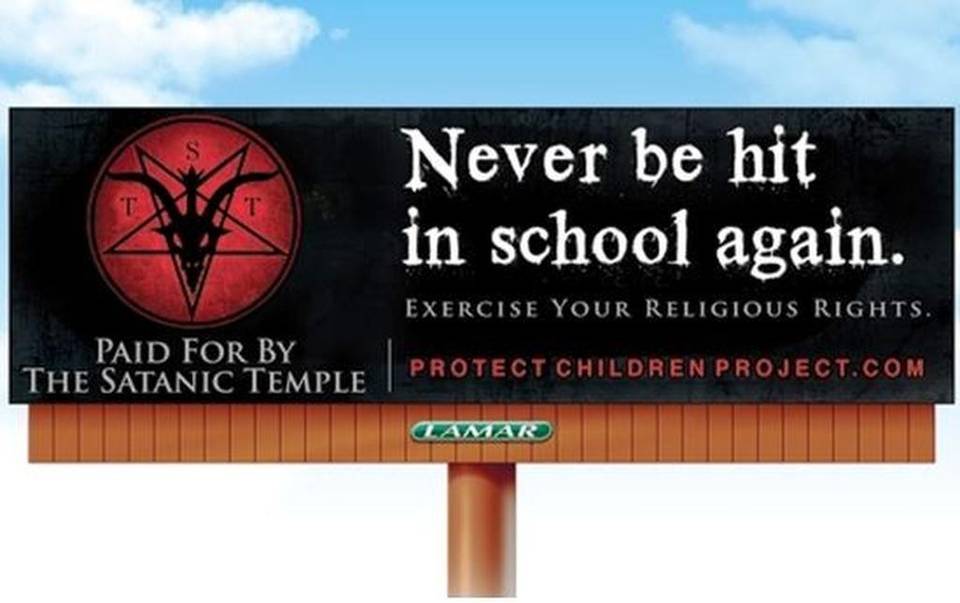 The Satanic Temple's website states that it is their duty to protect children and has established the Protect Children Project to fight "child abuse in America's public schools." According to their website corporal punishment is legal in 19 states. Furthermore, 110,000 children are hit each year under law, with many beaten to the point they require treatment at a hospital.
In 2012, Cathi Watt was one mother not happy with the change in policy after her daughter's "approved paddling" resulted in bruises indicating excessive force.  
"I gave consent for my daughter to get a swat, but I didn't give consent for him to bruise my daughter," Watt said. "I don't think a female will raise a bruise because she doesn't have the strength of a male. I think this sends a message to boys that it's OK to hit a girl and it's OK to bruise a girl. That's not right."
Lucien Greaves, the spokesperson for TBT hoped the billboard would "be disturbing for Springtown" because of its "proven disgrace."
"Springtown, Texas was chosen as the site for our first billboard not only because they routinely hit students, but because the district took no punitive action against a male vice principal after he beat two female students despite the school having a policy that prohibits male administrators from hitting female students. Rather than arrest or, at the very least, fire the vice principal, Superintendent Mike Kelley successfully lobbied the school board to change the rules retroactively to allow male faculty to spank teenage girls," TBT announced.
---
 This article (The Satanic Temple Defends School Children — No One Else Will) is a free and open source. You have permission to republish this article under a Creative Commons license with attribution to the author AnonWatcher and AnonHQ.com.
---
 Supporting Anonymous' Independent & Investigative News is important to us. Please, follow us on Twitter: Follow @AnonymousNewsHQ