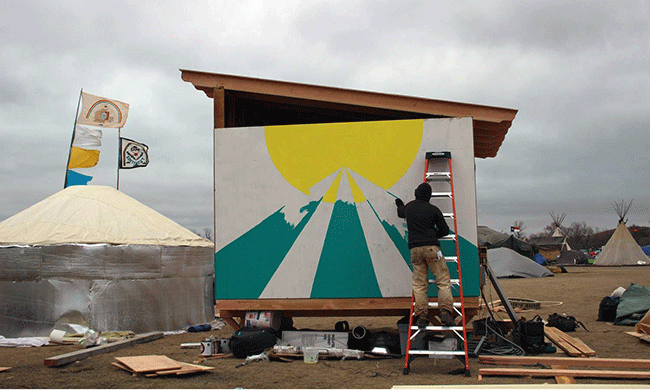 By Whitney Webb at trueactivist.com
A small, off-the-grid community in Oregon has donated several tiny houses, a solar energy system, and massive amounts of food to those leading the resistance against the Dakota Access Pipeline.
As winter approaches, those who have continuously protested for months against the Dakota Access Pipeline are preparing to stay warm as North Dakota temperatures begin to dip well below freezing. Donations such as warm winter clothes, food, and medical supplies have been pouring in from around the country as national support for the protestor's cause continues to grow. However, one donation from a small community in Oregon has grabbed attention in recent days for its ingenuity and thoughtfulness.
Matt Musselwhite, a carpenter, arrived at the camps just a few days ago with the components for several tiny houses in tow, along with several other sorely-needed items. Musselwhite and other volunteers organized a project to help house Dakota Access protestors called "Shelter for the Storm." They milled several giant trees and constructed modular components for three tiny houses while a metal-roofing company nearby contributed the houses' roofs and screws. Those involved were enthusiastic about the protestors' efforts and were happy to be able to support him. One of Musselwhite's neighbors, Jessica Lynn, said that "Standing Rock is a platform to heal and save our planet – and so much more." Rodger Parrot, who owns the metal-roofing company, also expressed his support saying, "I'm grateful to see people that are willing to step up. Someone has to stand up for the planet."
Musselwhite, along with a volunteer Teamster trucker, spent three days traveling from Oregon to North Dakota in a 5-ton flatbed truck transporting the tiny houses among other goods. The generous and much-needed donation also included solar energy systems, wood stoves, 100 loaves of organic bread, and 1,000 pounds of organic pork, salmon, hamburger, and produce. "It just made sense to use our various skills and resources to contribute what we could," said Musselwhite. Upon arriving at the encampment, Musselwhite was unsure of how to unload all of his cargo, though he was soon greeted by several volunteers who have been helping him unload and reassemble the houses.
One of the houses will soon become home to Mni Wiconi, the first baby born at the encampment since the protests began back in April. She was named for the Lakota Sioux phrase, "water is life," which has been the rallying cry of the Native Americans and their allies who have gathered en masse to oppose the pipeline. The wood used to build this particular home was donated by Rocky Verdugo, the uncle of the child's father. Verdugo commented on the gesture, saying that "it added that much sacredness and power to know that taking this tree would keep this new family warm for the winter. We put our prayers into it." It's gestures like these that give hope to the resistance who are set to face off against the US military in a matter of days. If more people showed the kind of solidarity put forth by Musselwhite and his neighbors, the situation in North Dakota could change drastically and for the better.
What are your thoughts? Please comment below and share this news!
---
This article (Small Town In Oregon Donates Tiny Houses, Solar Panels, And Tons Of Food To Standing Rock) is free and open source. You have permission to republish this article under a Creative Commons license with attribution to the author and TrueActivist.com