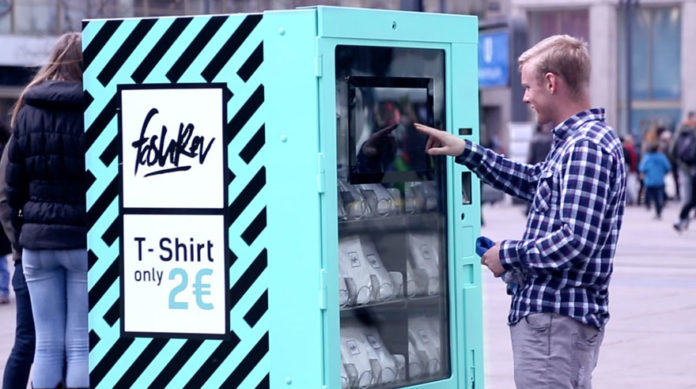 A vending machine in Berlin was selling a €2 (about $2.19) t-shirt to shoppers. At this throw away price, it is expected that there would be queues of buyers outside the venue. But no one bought it. Strange isn't it?
Though there were people flocking to the machine to benefit from the bumper sale, when they saw the catch, however, they changed their minds. But why did they turn away?
In order to buy the €2 t-shirt, shoppers had to first watch a video which showed shocking images of the production conditions that went into creating the t-shirt by people who made those tees – the exploited under-age sweatshop laborers who worked for up to 16 hours a day for as little as 13 cents an hour.
"People want fashion at a bargain but would they still buy it if they knew how it was made? Meet Manisha, one of millions making our cheap clothing for as little as 13 cents an hour each day for 16 hours," reads the video. Then the question "Do you still want to buy this €2 t-shirt?" flashes up on the screen, followed by the options "buy" and "donate".
When the shoppers were confronted with the reality, not surprisingly, most chose to donate to the cause instead of supporting the cheap labor.
The video was released on Fashion Revolution Day which commemorates the collapse of the Rana Plaza in Bangladesh in 2013 that killed more than 1,000 garment workers who had been making clothing in unsafe conditions for American brands like J.C. Penney, Benetton, and Walmart.
"We're not asking people to boycott their favorite stores, we need to change the fashion industry from within by asking the brands and retailers where we like to shop 'Who made my clothes?' Consumers didn't cause this problem, but that doesn't mean that we shouldn't be part of the solution," Fashion Revolution Day founder Carry Somers told Marie Claire.
Watch! We all want a bargain, but this #FashRev video proves we care about the people #whomademyclothes! http://t.co/aUaOWjzXg5 v @youtube

— Sasstainable (@Sasstainable) May 7, 2015
T-Shirt just 2 Euros… But behind it, you'll see a painful feeling. http://t.co/YN5iYaT9XH — Idris Ardi Pradana P (@ardtrn) May 4, 2015
---
You want to discuss a certain topic with likeminded people or you want to organize a local protest or you have an idea for a project that can help people in need in your local community or all around the world? Join our forum! www.anonboards.com
---
You want to support Anonymous Independent & Investigative News? Please, follow us on Twitter: Follow @AnonymousNewsHQ
---