Can you imagine your kids being taken away from you due to false allegations? Because you said something wrong? Because someone who lives in your neighbourhood is 'apparently' a rapist?
According to the video below, children in the UK are abducted from loving and respectful families every 20 minutes, 24 hours a day. If the social services see any excuse at all to take a child and put them up for adoption then they will not hesitate to try.
As seen in the video below, officers arrive at the door of a family in the UK and state that they are doing a welfare check on their child. After some debate the mother decides to allow two officers into her home to begin the inspection. Later into the video one of the officers state that they are taking the baby away due to the mother concealing her current pregnancy. This is where the police made their first mistake; The woman was never even asked if she was pregnant, despite the fact that she never openly told the officers that she was pregnant she did still not conceal it.
After this you will see 4 other officers barge into her home without any of the home owners consent, – the second mistake – which is illegal on its own.
One of the officers stated that the father was "obstructing" them when he was allegedly standing at the other side of the room. The officers asked him to leave but when he asked the officers why he was being removed from the home they decided to arrest him, without stating his rights – the third mistake.

Thousands of children are taken from their homes every year for similar ridiculous scandals and a lot of it is just for profit and competitiveness. Each social service company will compete to be the biggest and the best, seeing if they can achieve bigger goals than the other competing companies. Each child is a few more thousand for these companies, maybe even a better record for the police officers; but when it comes down to the reality of what is really happening to the mothers, fathers and children that are subject to this kind of corruption it is disgusting.
It is no secret that the amount of children being taken into adoption each year is vastly rising, but the question is why? Statistics show that crime is lowering each year in the UK and statistics are also showing that the amount of abusive parents are also declining, so what is the reason?
Lets start at the beginning; An application is supposed to be written by local authorities whenever it is deemed that a child is in serious danger or imminent to harm from either their household peers or those living around them, this includes things such as the mother or father taking or dealing drugs. The application should only be filled if it seems necessary for the child or children to be removed from the home due to this danger. The application will further be represented to the courts.
If you compare the applications that are present now you can see a clear difference in the scale of them; comparing 2011-2012 to just the 4 years before you can see a large incline in the amount of applications sent in. From April 2011 to January 2012 alone there was an 11% increase in applications.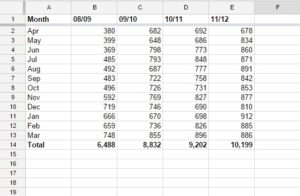 Anthony Douglas, Chief Executive of Cafcass stated that "Agencies are working more quickly to ensure that children are removed from deeply damaging households where many have been for some time and are showing a lower tolerance for poor parenting. What we are seeing is an elimination of drift in neglect cases and a greater recognition of the appalling impact of neglect can have on children. Nearly every child involved needs love, care and therapy, either back home or elsewhere. All agencies need to factor in these much larger increases into their planning systems, resource allocations, workforce development strategies and service contracts, so that the most vulnerable children in the country continue to receive strong public services." – apparently speeding up a child's case to be removed from home and bypassing some of the important information is a good idea. These decisions will effect a child's, as well as a parent's entire life.
Whether it is for money, power or actually because these people are abusing their children, children in the UK are being taken away from loving families all of the time and it is beginning to become a serious caution that all parents now need to take. Take this article as an example for the future, how easy will it be for them to abduct your children in the future?