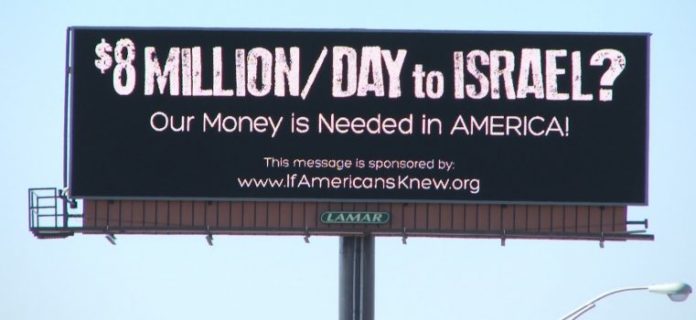 In what is being called "the largest single pledge in history," 83 senators have signed a letter to the President pledging an increase in international aid to Israel. As it stands today, Israeli foreign aid accounts for more than half of the entire United States international budget. In response to the letter, a spokesperson for the White House announced on April 25th that: "We are prepared to sign an MOU [memorandum of understanding] with Israel that would constitute the largest single pledge of military assistance to any country in US history"
The pledge was created and led by Senator Lindsey Graham, whom has a longstanding history of pushing aggressive policies aimed towards war and austerity. Of the 100 senators serving, the pledge has received overwhelming bipartisan support, with 51 Republicans and 32 Democrats all agreeing to sign the letter. Most notably missing from the pledge is Senator Bernie Sanders, who has recently been in the news for speaking out against Israeli aggression in the Middle East.
As it stands today, the United States government provides Israel with 3.1 billion dollars in aid each year. This amount accounts for approximately 53% of the entire $5.9 billion annual foreign aid budget. In 2015, Benjamin Netanyahu asked the United States government for an increase to 5 billion dollars and although the United States is not prepared to go this far, they are close. The new pledge agrees to increase aid to Israel by a total of 45% – from 3.1 billion in 2017 to 4.5 billion dollars by 2018. As the current arrangement is set to expire at the end of 2017, the changes would not take effect until after this date.
Israeli officials have stated that "an increase in military funding is necessary to counter threats that will arise as a result of the international nuclear agreement with Iran, which Israel has strongly opposed." According to Russia Today, the increased funding would primarily go towards "missile defense systems such as 'David's Sling' and 'Iron Dome,' intended to deal with short- to medium-range missiles, as well as the high-altitude 'Arrow 3' interceptors." As the author of the letter, Senator Graham states: "In light of Israel's dramatically rising defense challenges, we stand ready to support a substantially enhanced new long-term agreement to help provide Israel the resources it requires to defend itself and preserve its qualitative military edge."
All sources point to the recent Nuclear deal signed by President Obama, which has been received with heavy criticism from several allies, as the main reason for new policies such as this. The Obama administration has already been trying to make up for this deal with Saudi Arabia by increasing military aid and supplies to the country for their war in Yemen. Now President Obama is trying to rebuild the bridge with Israel by increasing aid to them as well.
About the new proposal, Senator Graham told The Times of Israel that the US can afford to do this because "We'll have more money this year than potentially next year." A curious statement considering the United States government has operated under an annual budget deficit every year since 2002. In fact, according to the tax foundation, "in calendar year 2016, the deficit will grow significantly, from $592 billion in 2015 to $698 billion in 2016." The United States also operates under a 19.2 trillion dollar nation debt at this current moment in time. So, where is all of this money coming from? The US government has asked the FED to print an additional 1.5 trillion dollars before President Obama leaves office in 2017.
---
You want to support Anonymous Independent & Investigative News? Please, follow us on Twitter: Follow @AnonymousNewsHQ
---
This article (Despite Budget Deficits – US Senate To Increase Aid To Israel) is free and open source. You have permission to republish this article using a creative commons license with attribution to the author and AnonHQ. Join the conversation at www.anonboards.com
---