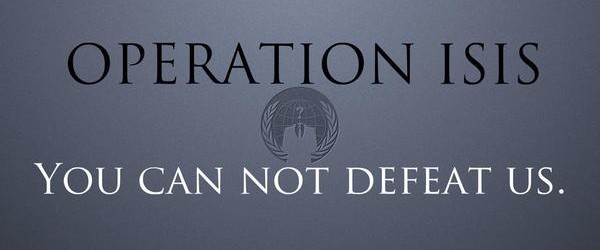 11/23/2015 – I am writing in response the talk over how government intelligence agencies may be negatively impacted by the success of Anonymous' declaration of War on ISIS. From my personal point of view this has been the busiest week within Anonymous that I have ever seen. In addition to the tens of thousands of global citizens who have come through Anonboards.com the last week, the core hackers at Anonymous have been busy…..
November 19th: Anonymous Takes Down 5,500 ISIS Twitter Accounts in 2 Days: http://anonhq.com/anonymous-vs-isis-anon-takes-5500-isis-accounts/
…Three Days Later Anonymous Has extending this into the Tens of Thousands of Accounts: http://anonhq.com/anonymous-takes-down-20000-twitter-accounts/
If you have not read these two articles, please do before we continue on with the discussion:
http://anonhq.com/anonymous-may-inadvertently-harm-counter-terrorism/
http://anonhq.com/playstation-4-used-for-communication-on-paris-attack/
What I want to surmise here is that not all of ISIS is simply on Twitter and Facebook. Some have even said "ISIS is not that stupid be on Twitter" meaning the serious communication would not take place here. Core ISIS members use different venues for communication and this process is only speeding up with the Anonymous attacks against them. Anonymous for better or worse is pushing ISIS members underground. Intelligence analysts are quoted as saying ISIS is heavily on Telegram now and they sometimes do use PlayStation chats. Anonymous hacktivists need to extend their vision beyond just the most popular social media.
What I hear many people talking about from 'average Joe' to Anonymous hackers is the idea that maybe we should not simply remove the account but use them for more information. Here is checklist of what we really need from all of these ISIS accounts that people are finding:
Find a telephone number associated with the account
If you can, find an address associated with the account
Take multiple screen shots of what you see on the website/account that proves this is ISIS member displaying ISIS support of affiliation
Create a file for each individual person/account/website you find including ALL of the information above
Make sure these files get seen. Dump the information on the internet, report to Anonymous or Ghostsec, Anonymous tip the police/government. Do everything you can to make sure the information gets into the hands of people who can act on it.
This is the information government agencies need in order to track, monitor and detain ISIS members in their respective countries. In USA for example all police need to track and monitor a phone is a search warrant. Police can get a search warrant in a matter of hours if you show them proof of a suspected ISIS member. A individual phone/person will be found immediately. Governments have the money/resources/budgets/authority that we can not. Anonymous can contribute to putting these people behind bars and/or taking them off the streets rather then simply shutting down internet accounts.
As for all of the Facebook and Twitter accounts of ISIS I find it odd how they exist in the first place. Every 'average Joe' can contribute to Anonymous War on ISIS by sending an email to Twitter and Facebook demanding that these two organizations do more information to remove ISIS propaganda themselves. This will free up Anonymous to focus on more serious matters.
Demand Facebook Do More To Remove ISIS Accounts: https://www.facebook.com/help/contact/268228883256323
Demand Twitter Do More To Remove ISIS Accounts: https://twitter.com/support
---
This article "The Next Step for OpISIS" is free and open source. You have permission to republish this article with a creative commons license with attribution to the author and AnonHQ