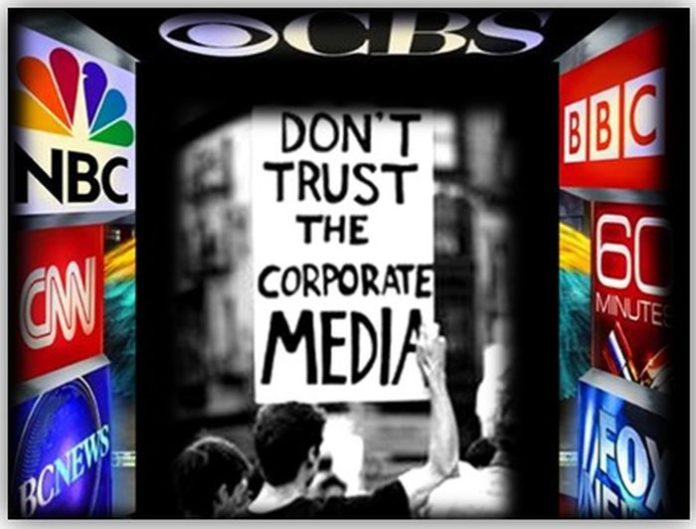 Forget the scandalous and fake news fabricated by the mainstream media (including CNN, ABC, NBC, BBC, FOX News, CBS News, and The New York Times) to spread propaganda and lies and brainwash its core audience to manipulate public opinion. The so-called chief purveyors of information cover-up, hide, ignore, and turn against important news that they see as hostile to their agenda. Here's our pick of 2016's top 16 news stories the mainstream media barely covered…
1. The DAPL Protests
Led by the Standing Rock Sioux tribe, Native American activists, water protectors, and land defenders began protesting the construction of the $3.8 billion, 1,200-mile long Dakota Access Pipeline in the spring of 2016. Many Sioux tribes saw the DAPL as a threat to their environmental and economic well-being (as they relied on the Missouri and Mississippi rivers for drinking water and irrigation) as well as a threat to their culturally sacred sites.
Even when the heavily armed North Dakota National Guard, law enforcement officials, and private security firms used ear-damaging sonic cannons to get the crowds to disperse; deployed attack dogs on the DAPL opponents; and detained over 400 protesters in inhumane and degrading conditions, the mainstream media remained silent to protect corporate interests.
2. 20 Million Shia Muslims March Against ISIS
In one of the biggest marches in the world, tens of millions of Shia Muslim men, women, and children walked through Iraq's war-stricken ISIS-controlled areas (knowing that an ISIS suicide bomber had killed nearly 80 people the week prior) to the city of Karbala for the holy day of Arbaeen, which marks the end of a 40-day mourning period following Ashura (the religious ritual that commemorates the death of the Prophet Mohammad's grandson Imam Hussein in 680 AD). This massive ISIS-defying event could have been the catalyst in easing international tensions, however, the mainstream media conveniently ignored it.
3. Largest Child Porn Bust in History
In November, Western Norway Police seized 150 terabytes (which corresponds to 35,000 DVDs) of child porn depicting gruesome forms of sexual abuse against children of all ages, including infants. The year-long Operation Darkroom implicated 51 highly educated individuals – including elected politicians, engineers, kindergarten teachers, lawyers, and police officers – in one of the biggest seizures of pedophile materials (which revealed a number of atrocities including the penetration of toddlers, children being tied up, children having sex with animals and children having sex with other children) in Norwegian history. The disclosure, which even upset Prime Minister Erna Solberg, was shamelessly covered up by the mainstream media outlets.
Operation Darkroom was not the only elite pedophile scandal the mainstream media covered up in a coordinated manner. Supporters of Donald Trump claimed John Podesta's emails, leaked by WikiLeaks, contained coded messages discussing an underground international child sex ring (involving Hillary Clinton and members of the Democratic Party) being operated at the Comet Ping Pong Pizza restaurant in Washington, D.C. But the mainstream media debunked PizzaGate as fake news and a conspiracy theory.
Significant, if partisan, find showing how the Clintons supported child stealer Laura Silsby https://t.co/7nULjOgmzr pic.twitter.com/NCgsVWTF2W

— WikiLeaks (@wikileaks) November 3, 2016
Officials at the International Atomic Energy Agency (IAEA) admitted that one-third of the world's oceans are contaminated after the 2011 nuclear accident at the Fukushima Daiichi reactors in Japan, which caused dangerous amounts of radioactive materials to spill into the Pacific Ocean. It's anybody's guess why the mainstream media doesn't want to tell you the massive and real damage caused by Fukushima radiation.
6. UK's Biggest Anti-Fracking Rally
On November 12, the United Against Fracking Rally (UAFR) took place in Manchester after the government shockingly approved Cuadrilla's plans to drill for shale gas at its Preston New Road site between Blackpool and Preston, and frack four horizontal wells at Roseacre.
The government also approved Third Energy's plans to drill shale gas and frack a vertical well near the North Yorkshire village of Kirby Misperton. The protesters were concerned that the 'milestone' decisions would lead to more fracking across East and South Yorkshire, and in North Nottinghamshire. Again, there was little coverage of the rally in the mainstream media.
7. #OpIcarus: Anonymous Takes Down U.S. Federal Reserve Bank
In a series of coordinated DDoS attacks worldwide, Anonymous hacktivists took down over 20 Central Banks including the U.S. Federal Reserve Bank, the Bank of England, the Bank of Franc, and Central Bank of the United Arab Emirates in May.
The cyber attacks were conducted as a protest against the Central Banks which "have been getting away with murder, fraud, conspiracy, war profiteering, money laundering for terrorists and drug cartels; have put millions of people out on the street without food or shelter; and have successfully bought all our governments to help keep us silenced."
8. Israeli Calls For Palestinian Genocide
Mainstream media and Facebook not only failed to condemn Israeli incitement against Palestinians, they blatantly ignored a massive anti-Palestinian rally calling for Palestinian genocide in Tel Aviv. Rally-goers shouted anti-Arab slogans and attacked persons perceived as being leftists or journalists. Chants from the crowd included "Kill the leftists", "Elor Azarya is a hero, bring back our boy!" and "Death to Arabs," a frequently heard rallying cry at anti-Palestinian demonstrations.
Crowd chants "Elor the hero" and "death to Arabs." This seems more like a celebration of murder than anything pic.twitter.com/2QHDpIT0LJ

— Dan Cohen (@dancohen3000) April 19, 2016
In July, Russian President Vladimir Putin signed a law to ban the production and import of genetically modified products, except in cases where they will be used in testing and scientific research, making Russia the world's largest GMO-free territory.
The law not only prohibited all GMO crop cultivation and GMO animal breeding in the Russian Federation, it allowed the Russian government to restrict the import of GMO products that may pose a threat to human health or the environment.
The U.S. mainstream media barely covered the largest prison strikes in American history, which began on September 9, on the 45th anniversary of the Attica prison uprising, across 24 states. An end to slavery in America, better conditions, and healthcare were some of the demands of over 50,000 inmates. Organizers called the lack of mainstream media coverage as intentional, with many prison officials denying the prison strike ever occurred.
In 2015, an analysis of terror attacks since George Bush declared the "War on Terror" in the aftermath of 9/11 revealed the war led to a staggering 6,500% increase in terrorism and 4,500% increase in casualties. As usual, the mainstream media didn't cover the shocking findings. In 2016, CIA Chief John Brennan confirmed the United States' fight against the Islamic State produced more terrorists than al-Qaeda had at its height. True to its reputation, the mainstream media conveniently hid the truth from its audience.
12. 9/11 Was a Controlled Demolition
An investigation into the collapse of all three World Trade Center buildings on September 11, 2001, found new proof that the WTC towers were destroyed by controlled demolition rather than a terrorist attack. The analysis, published in the European Scientific Journal, pointed out that a steel-framed high-rise building would never completely collapse from fire.
And yet on 9/11, three buildings (which were created to be strong enough to withstand the force of a plane hitting them) supposedly collapsed due to horrendous fire, one of which wasn't even hit by a plane. While the conclusion went largely unreported, The Sun denounced the research as a conspiracy theory.
The first oil spill of 2016 went almost entirely unnoticed. In May, a damaged pipeline at a Royal Dutch Shell deepwater production field, about 100 miles off the Louisiana coast, spilled around 90,000 gallons of oil into the Gulf of Mexico. According to an estimate, about 500,000 gallons of oil was actually released – the worst since the BP disaster in 2010. However, how many of you actually heard about it?
14. Zika-Linked Birth Defects a Monsanto Cover Up
In January, it was found that the release of GM mosquitoes in trial zones in Brazil (designed to reduce the burden of insect-borne diseases) were responsible for the birth malformations and neurological syndromes as the epicenter of Zika's outbreak was in the same area where GM mosquitoes were first released into the wild. What did the mainstream media do? It debunked the disclosure as a ridiculous theory.
Zika Outbreak Epicenter In Same Area Where GM Mosquitoes Were Released In 2015 https://t.co/0vvLWaueAx pic.twitter.com/38ZxhwBGgZ

— The D.C. Clothesline (@DCClothesline) January 29, 2016
15. Trans-Pacific Partnership
For two years, mainstream media almost completely ignored the Trans-Pacific Partnership (TPP) — the consequential 12-nation agreement aimed at expanding corporate and investor rights at the expense of medical affordability, the environment, and labor rights.
MSNBC's owner, Comcast; Time Warner, the parent company of CNN owner Turner Broadcasting; and 21st Century Fox, the legal successor to News Corporation, which operates Fox News; all lobbied for the TPP. After the TPP became a major factor in the 2016 presidential campaign, and after the US President-elect Donald Trump promised to abandon the trade deal, MSNBC, CNN and Fox News started to report about it, albeit selectively.
16. Saudi Official Finally Admits Saudi Arabia Supports Terrorism
Saudi Arabia, a close U.S. ally, is the world's leading sponsor of Islamic extremism. Examples of Saudi government-funded, intolerant, violent and toxic rhetoric are aplenty. The world knows ISIS and al-Qaeda is a product of Saudi ideals, Saudi money, and Saudi organizational support. Of the 19 9/11 attackers, 15 were citizens of Saudi Arabia.
Yet, when a top Saudi official admitted to a former U.S. ambassador that Saudi Arabia funds and exports Islamic extremism, and that their support for extremism was a way of resisting the Soviet Union since the 1960s, mainstream media looked the other way.
---
This article (16 Huge Stories the Mainstream Media Didn't Want You to Know in 2016) is free and open source. You have permission to republish this article under a Creative Commons license with attribution to the author and AnonHQ.com.