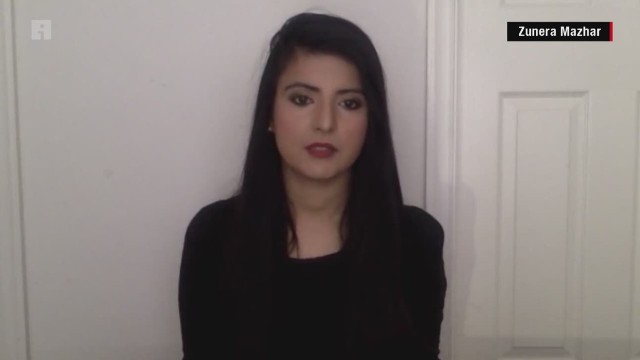 In the wake of terror attack on French satirical magazine Charlie Hebdo, CNN invited Muslims to share their thoughts on the massacre of 12 people in the name of protecting the religion and protecting the Prophet, freedom of expression and religious tolerance. The Muslims who spoke to CNN did not apologise for their beliefs, they apologised to the world on behalf of Islam, tainted by a handful of Muslim extremists. They were outraged, appalled and ashamed of the terror act.
A fuming immigration worker, 31-year-old Zunera Mazhar from Virginia, gave a powerful video message. She said, "Being a mother, having a 6-year-old daughter, how do I explain it to her? No, this is not us? I am just livid. I don't know why we feel that it's OK to kill innocent people in the name of protecting something that does not need or require protection. I am really sorry to the whole world as a Muslim that we have some ignorant people that have taken some very ignorant actions in the name of faith".
And this is how Twitter reacted to her livid emotions:
#JeSuisCharlie #zuneramazhar #cnn the #Muslims themselves should start the action against extremism not USA not EU, not Canada.

— Amalda Ada (@AmaldaAda) January 10, 2015
#ZuneraMazhar Your speech was outstanding they should be more people like you.

— Jenks (@CpJenkaz) January 10, 2015
Hats off to Muslims like Zunera Mazhar or President al-Sisi for saying what needs to be said. http://t.co/s6poGP1Qmd #RedEye #CharlieHebdo

— 2015-A Bacon Oddesey (@Fenway_Nation) January 10, 2015
Theresa Corbin from New Orleans, who converted to Islam two months after 9/11 and wears a hijab, said, "I fear the [Paris] attack will mean that people will be more likely to sneer at me, to call me names in public, or even attack me. But I hope that it means that people will ask me questions about my faith and that I can make it clear that these attacks have no place in Islam".
Stephanie Dunbar Siam, an American living in Muscat, Oman, was angry at the 'hijackers' of her religion. She was annoyed that she will have to reassure people around her that "This is not Islam". "I want to reaffirm my intense alarm and disheartening at the deaths of the Charlie Hebdo staff members. But I will not apologize for my beliefs or my religion. It means I will persevere even harder to learn more about my faith so I can counter misunderstanding and discrimination in a positive manner, the way Prophet Mohammed did it".
Ahmad Basel Burghul, a 20-year-old student from Istanbul, Turkey, thought that the Paris attack might force French people to look upon Muslims differently so he is no longer thinking of studying in France.
Related Articles:
Paris Terror Attack: Anonymous To Avenge Charlie Hebdo Shootings, Declares War On Islamist Websites
Catholic League Defends Murders at Charlie Hebdo
#JESUISAHMED|Story Of The French Police Officer Who Was Gunned Down While Saving Charlie Hebdo
Muslim Activist Tweets What's Most Offensive About The Paris Shooting
Here's How Arab Newspapers Reacted to The #CharlieHebdo Massacre
#CharlieHebdo Shooting Suspect #MouradHamydInnocent? Classmates Defend The Teenager on Twitter
10 Things The Media Won't Be Talking About After The Paris Terror Attack
Terrorists' Slaughter of French Journalists Boosts Europe's Racist Far-Right
US Politicians Take Advantage of France Terror Attack to Call for More NSA Spying

____________________________________________________________________________
Source:
http://edition.cnn.com/2015/01/09/world/muslims-react-charlie-hebdo-irpt/index.html?sr=fb010915muslimsreax7pVODtopLink