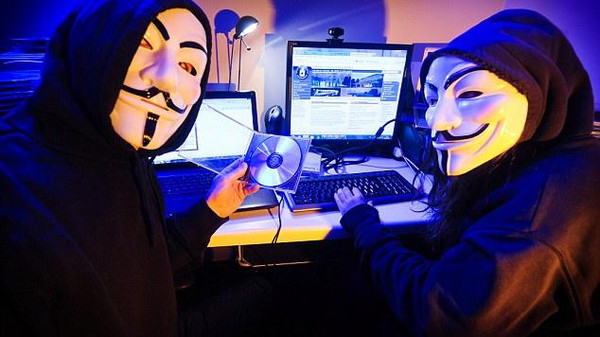 Anonymous, the online hacktivist collective, has vowed to shut down terrorist websites and social media accounts promoting terrorism to avenge the brutal murder of Charlie Hebdo journalists. The group intends to render the jihadist websites inaccessible through the denial of service (DDoS) attack.
Addressed to Al Qaeda, Islamic State and other fanatics, a Belgian offshoot of Anonymous posted a video on YouTube, 'declaring war' against terrorist groups. The video has had over 2,000,000 views since it was posted on January 8. The video is the English version, if you want to watch the video in French, click here to watch it.

Operation #OpCharlieHebdo was also announced on Twitter:
#OpCharlieHebdo Engaged! #CharlieHebdo #JeSuisCharlie #OpIceISIS #No2IS #Anonymous #AnonFamily #WeAreLegion #ExpectUs pic.twitter.com/OKJlfgkM8R

— #AnonyMissLosAngeles (@Anon_LosAngeles) January 10, 2015
RT if you support this. #JeSuisCharlie #OpCharlieHebdo pic.twitter.com/vQ3ZuLwCpo

— Anonymous (@LatestAnonNews) January 9, 2015
A statement posted by Anonymous in French on Pastebin read:
"Freedom of expression has suffered an inhuman assault. Sickened, shocked, we cannot fall to the ground. It is our duty to react.
"It is clear that some people do not want, in a free world, this inviolable and sacred right to freely express opinions. Anonymous will never let this right be violated by obscurantism and mysticism. We will always fight the enemies of freedom of expression everywhere.
"Freedom of expression and opinion is a non-negotiable thing to tackle – to attack it is to attack democracy. Expect a massive and head-on reaction on our part because the defence of those freedoms is the foundation of our movement".
Related Articles:
The Paris Terror Attack: Here's Why I Am Not Charlie
Catholic League Defends Murders at Charlie Hebdo
#CharlieHebdo – Muslim Woman Apologises To The World In The Name Of Muslims
#JESUISAHMED|Story Of The French Police Officer Who Was Gunned Down While Saving Charlie Hebdo
Muslim Activist Tweets What's Most Offensive About The Paris Shooting
Here's How Arab Newspapers Reacted to The #CharlieHebdo Massacre
#CharlieHebdo Shooting Suspect #MouradHamydInnocent? Classmates Defend The Teenager on Twitter
10 Things The Media Won't Be Talking About After The Paris Terror Attack
Terrorists' Slaughter of French Journalists Boosts Europe's Racist Far-Right
US Politicians Take Advantage of France Terror Attack to Call for More NSA Spying
Paris Unity March | More Than 3.7 Million Attended
The Muslim Heroes of the Paris Terror Attacks