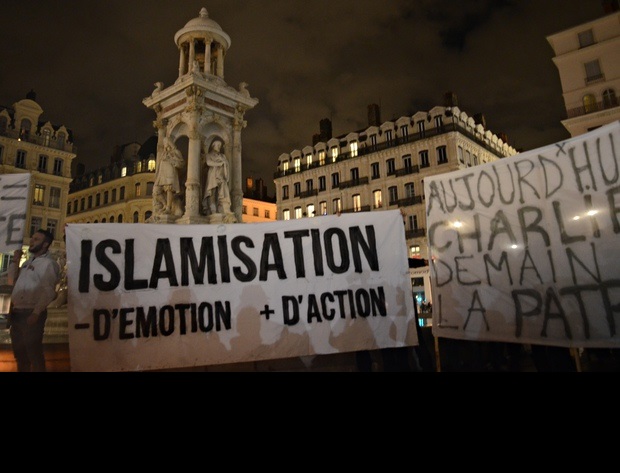 Post the Charlie Hebdo shooting, there have been numerous far-right attacks against Muslims in France and Europe. Three grenades were thrown at a mosque in Le Mans, west of Paris. A Muslim prayer hall in Port-la-Nouvelle, southern France, received shots shortly after evening prayers. A blast erupted at L'Imperial, a restaurant affiliated to a mosque in the French village of Villefranche-sur-Saone.
Revenge attacks on Muslim spaces begin in France after #CharlieHebdo massacre http://t.co/50anhW9BEk pic.twitter.com/uKL5El7V2B

— Daily Mail Online (@MailOnline) 8. Januar 2015
There have been at least 15 such racist-attacks in less than a week (Click on the picture below to enlarge it) :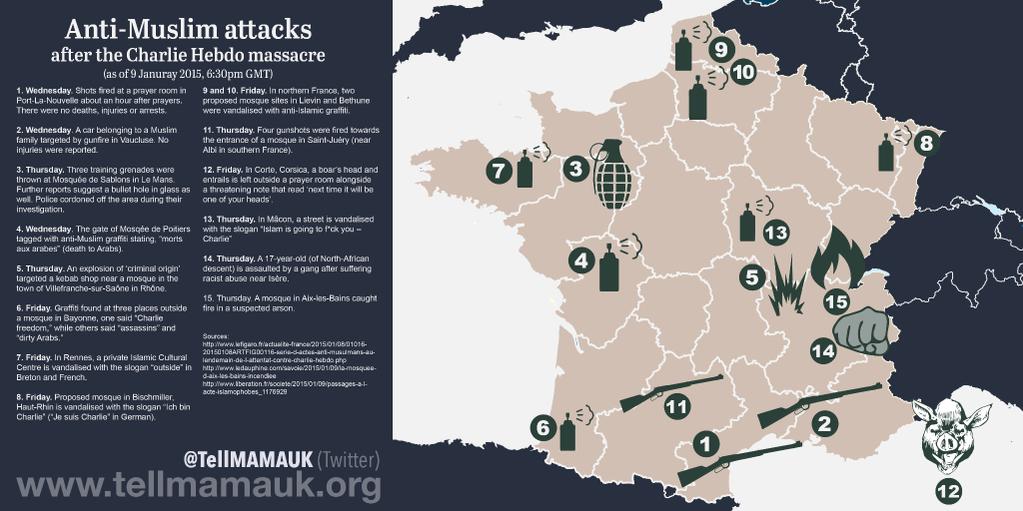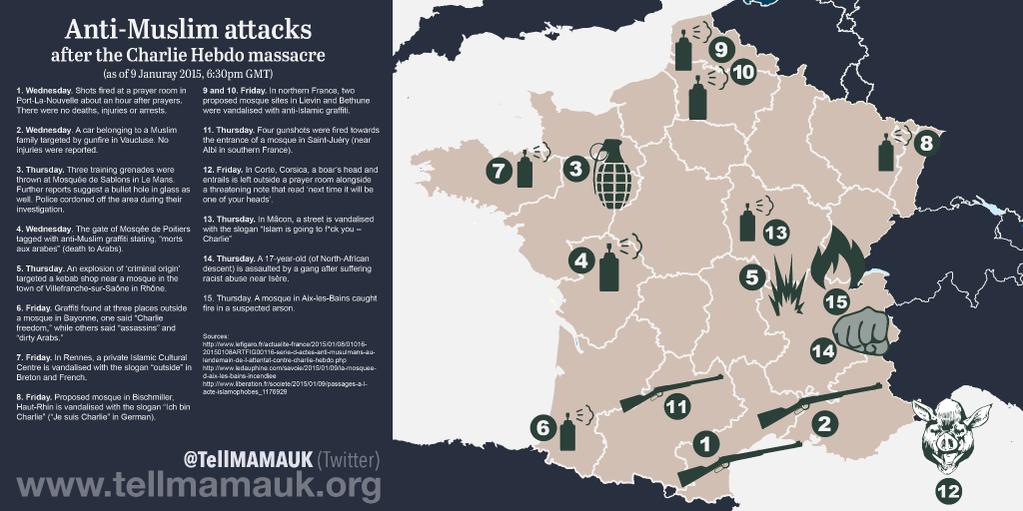 Anti-Islamists protesters and far-right supporters are not the only ones cashing in on the 7 January tragedy. Governments in Europe are gearing up to push an anti-immigrant legislation.
In Greece, Prime Minister Antonis Samaras blasted the main opposition party Syriza's immigration stance at an election campaign. "You see what is happening in Europe: Everything is changing dramatically. In France, the Socialist [President Francois] Hollande has sent the army onto the streets. There was a massacre [Charlie Hebdo] in Paris, and here some people are inviting over illegal immigrants and handing out citizenships".
Le Pen, head of France's far-right National Front, blamed radical Islam for the Charlie Hebdo shooting. Chief of MI5, United Kingdom's domestic counter-intelligence and security agency, has called for new powers to help fight Islamist extremism following the Paris attack. In the wake of bloodshed in France, head of Netherlands' anti-Islamic Party of Freedom Geert Wilders said that the West was "at war" with Islam and called for tough measures against it. "It's Islam that causes all problems; it's Muhammad, the Quran that causes these problems and nothing else. If we don't do anything, it will happen here," Wilders added as he demanded an end of all immigration from Muslim countries.
We don't know what the Charlie Hebdo cartoonists wanted to achieve. We don't know what the terrorists wanted to achieve. What we do know is 7 January will certainly achieve what none of us would have foreseen. Governments will introduce draconian laws, increasing the surveillance state and persecution of Muslims and immigrants. Movements like Pegida will grow so will ISIS and Al-Qaeda. The West will proclaim solidarity with deeply offensive 'freedom of expressions' in future.
Provocative speech incites violence, hurts oppressed groups and religious beliefs, and affects innocent lives. This must not fall in the category of 'free speech'.
Related Articles:
Catholic League Defends Murders at Charlie Hebdo
#CharlieHebdo – Muslim Woman Apologises To The World In The Name Of Muslims
#JESUISAHMED|Story Of The French Police Officer Who Was Gunned Down While Saving Charlie Hebdo
Muslim Activist Tweets What's Most Offensive About The Paris Shooting
Here's How Arab Newspapers Reacted to The #CharlieHebdo Massacre
#CharlieHebdo Shooting Suspect #MouradHamydInnocent? Classmates Defend The Teenager on Twitter
10 Things The Media Won't Be Talking About After The Paris Terror Attack
Terrorists' Slaughter of French Journalists Boosts Europe's Racist Far-Right
US Politicians Take Advantage of France Terror Attack to Call for More NSA Spying
Paris Unity March | More Than 3.7 Million Attended
The Muslim Heroes of the Paris Terror Attacks