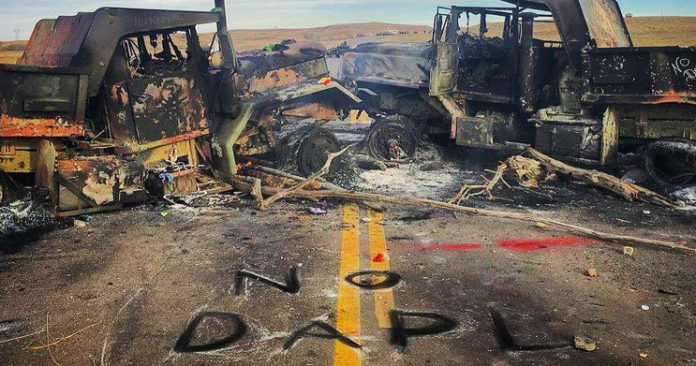 Our Anonymous media faction has extensively covered the Dakota Access Pipeline and the Standing Rock Sioux tribe's fight to protect their water and their sacred land.
We're all aware of the damage that can be done by the construction of oil pipelines, from the devastation of waterways to the threatening of life, be it plant, animal or human. The contamination that comes from the oil pipelines, and needless to say the entire process of extracting oil from the Earth, is nothing short of a brutal attack against our environment.
Couple that with a pipeline construction planned for the guts of what is considered sacred Native lands, and you're going to have a fight on your hands – and rightfully so.
The building of the DAPL and the protests that have consequentially followed are only heating up as the Army Corps of Engineers is refusing to back down. Digging their heels in, we have seen K9s illegally unleashed on protestors; protestors arrested and caged like animals, with numbers written on their arms, reminiscent of Nazi Germany; and last week, in the cold temperatures, protestors suffered an unleashing of water against them, as they were hosed down in sub-freezing conditions.
Rubber bullets and grenades have literally destroyed limbs, and two elder protestors have been reported as having gone into cardiac arrest after last week's water dousing actions. Dozens, in short, have been injured or hospitalized simply because they're standing up for what they believe is right.
Now, in the last few days, it has been reported that aircraft have been sighted flying over the Standing Rock Sioux tribe's camp. The fear is that they are being doused with chemicals from crop dusters flying late at night with the lights off.
"We have had aircraft flying over our camp for several days . . . [and] they mostly come at night and have their lights off … they are using this space illegally … Last night … there was an aircraft flying over camp from approximately 1:40am until about 2:20am this morning. [They are] spraying what we believe to be chemical agents down on top of us." 
Although it hasn't officially been confirmed, it doesn't at all surprise us, if this too, eventuates to be true. After all, this is perhaps as dirty as it gets when you protest on American soil.
.

---
This article (DAPL Protestors Fear Crop Dusters Spray Chemicals Over Them) is a free and open source. You have permission to republish this article under a Creative Commons license with attribution to the author AnonWatcher and AnonHQ.com.
---
 Supporting Anonymous' Independent & Investigative News is important to us. Please, follow us on Twitter: Follow @AnonymousNewsHQ