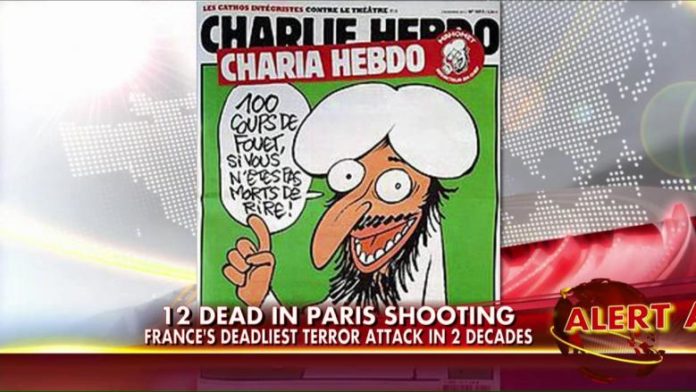 Why does the media only question Muslims every time an extremist, who happens to be a Muslim, commits an act of terrorism when it doesn't question other believers, like Jews to condemn fundamentalism committed by Jews extremists? Moderate Jews were not asked to condemn extremism propagated by Baruch Goldstein, who in 1994 shot and killed 29 praying Muslims and injured 125, at the Cave of the Patriarchs. However, following the terrible and awful attack on Charlie Hebdo office in Paris on January 7 that left 12 people dead, the media started asking "where is the Muslim outrage?"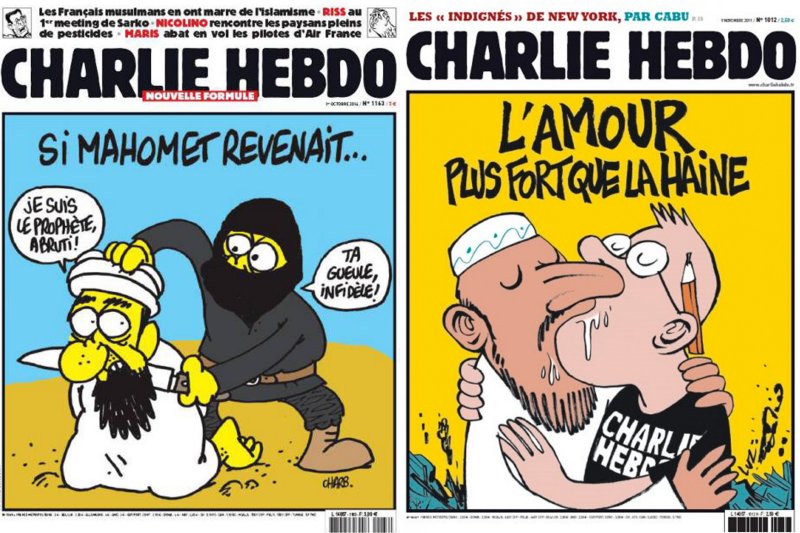 Much of this 'questioning' and 'outrage' came from Fox News. Fox News commentator Monica Crowley said that Muslims "should be condemning" the attack and that she hadn't "heard any condemnation… from any Muslim group". Fox News Newsroom guest Steve Emerson, executive director of the Investigative Project on Terrorism, complained, "You don't see denunciations of radical Islam, by name, by mainstream Islamic groups". While discussing the Charlie Hebdo attack during January 7 edition of Fox News host Bob Beckel claimed that Muslims as a whole are "being quiet" and went on to accuse the Council on American-Islamic Relations (CAIR) of keeping "their mouth shut when things happen".
Fox News, THESE ARE 50 examples of Muslim outrage about the Paris shooting that you and your uninformed journalists missed. We wish you had done your homework before insensitively commenting that "Muslims were quiet over the tragedy".
1. CAIR (America's largest Muslim civil rights and advocacy organization) National Executive Director Nihad Awad, said in a statement:
"We strongly condemn this brutal and cowardly attack and reiterate our repudiation of any such assault on freedom of speech, even speech that mocks faiths and religious figures. The proper response to such attacks on the freedoms we hold dear is not to vilify any faith, but instead to marginalize extremists of all backgrounds who seek to stifle freedom and to create or widen societal divisions.
"We offer sincere condolences to the families and loved ones of those killed or injured in this attack. We also call for the swift apprehension of the perpetrators, who should be punished to the full extent of the law".
2. Qasim Rashid, National Spokesman, Ahmadiyya Muslim Community, USA, said:
"While the cartoons may be offensive to Muslims, there's zero justification for any kind of violent response. Nothing in Islam permits that violent response. In fact, the Quran specifically condemns a violent response. We have to remember that Muslims are just as pained by this horrible attack as anyone else. Rather than waiting for Muslims to condemn it, recognize we do condemn it, and let's find a way to have dialogue to improve relations going forward".
3. Dr. Bilal Rana, President, Ahmadiyya Muslim Youth Association, an auxiliary of Ahmadiyya Muslim Community, USA, condemned the attack:
"The sanctity of human life is central to our faith. That lives could taken in this manner for any cause is appalling and unjustifiable".
4. Rafiq Hayat, National President, Ahmadiyya Muslim Community, UK, said:
"Under no circumstances does Islam permit a person to take the law into his own hands. It is never right to mock the sensitivities of any religion; nevertheless, there is absolutely no justification in Islam for violent response to any provocation."
5. Zahid Abid, Imam of Saskatoon, Ahmadiyya Muslim Community, Canada, said:
"It becomes quite frustrating that our first sentence has to be that we are sorry and that this is not Islam".
6. Farhan Khokhar, Vice President, Ahmadiyya Muslim Community, Canada, said:
"I was literally horrified and shocked. It was beyond disbelief to see such carnage and killing of the innocents. So the first reaction was not only to be horrified and shocked, but also our hearts went out to the innocents — people who died and their families".
Khokhar added there have been three main responses from members of the community.
"One is the general response I mentioned, because loss of innocent life is always tragic.. [And it] always brings tears to people's eyes. Just as you're starting the New Year, this is not how you want to start the New Year. So that's the first reaction.
"The second part of the reaction is that we do have a large Ahmadiyya Muslim community in France as well. To see the Muslims being associated with such horrendous attacks not only deeply saddened us but also goes to show how people have taken the name of a peaceful religion for their nefarious purposes.
"The third part is more of anger, in the sense that we want every perpetrator not only to be caught as quickly as possible, but that the full force of law should be laid against these people. Not only those that perpetrated the act, but people behind them as well, or people who supported them".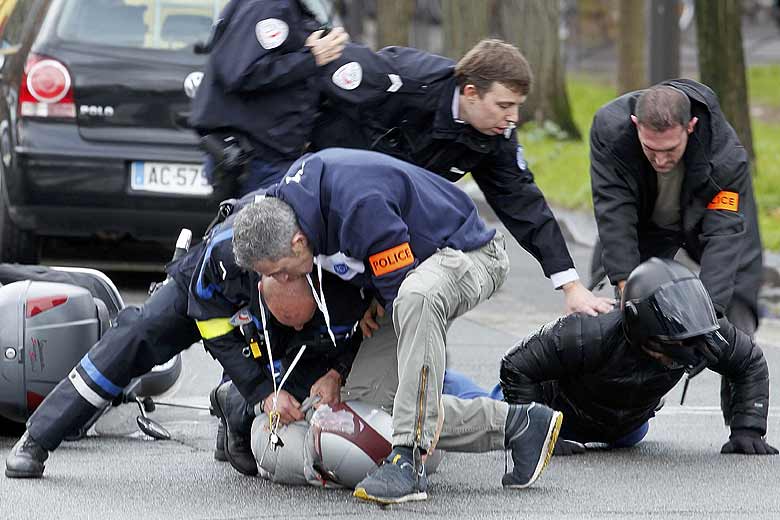 7. Dr. Mohammad Iqbal AlNadvi, Chairman, Canadian Council of Imams, said:
"We denounce [the attacks], and we don't think it is the right away to express anything. We hope all groups will maintain order and allow proper authorities to deal with it and that no violent action will be taken against Muslims".
8. Imam Yusuf Badat, Islamic Foundation of Toronto, reacted:
"We haven't seen any backlash, but the discussion goes on, you know? There's always the, 'Oh no, another crazy radical group has misused our religion to further their misguided political cause'".
9. Shuja Shafi, Secretary General, Muslim Council of Britain, said:
"Nothing justifies the taking of life. Those who have killed in the name of our religion today claim to be avenging the insults made against Prophet Muhammad, upon whom be peace. But nothing is more immoral, offensive and insulting against our beloved Prophet than such a callous act of murder. Our thoughts, prayers and solidarity go to the families of the victims and the people of France".
We condemn the attack on #CharlieHebdo Whomever the attackers are, and whatever the cause may be, nothing justifies the taking of life

— MCB (@MuslimCouncil) January 7, 2015
10. Dr. Dalil Boubakeur, President, French Council of the Muslim Faith, said in a statement:  
"The French Council of the Muslim Faith and the Muslims of France strongly condemn this violent terrorist attack against Charlie Hebdo magazine. This barbarous act is also an attack on democracy and freedom of the press. "Our thoughts go out to victims and their families, with whom we express complete solidarity in their terrible ordeal. "In an international context of political tensions fueled by terrorist groups unfairly taking advantage of Islam, we call upon all who are committed to the values of the Republic and democracy to avoid provocations that only throw fuel on the fire. "Faced with this drama on a national scale, we call on the Muslim community to be vigilant against manipulations from terrorist groups of any kind".
11. Union of Islamic Organizations of France:  
"The UOIF condemns in the strongest terms possible these criminal attacks and horrible deaths. The UOIF offers its condolences to the families and all employees of Charlie Hebdo".
12. Arab League, which represents 22 Arab countries, released a statement:  
"Arab League chief Nabil al-Arabi strongly condemns the terrorist attack on Charlie Hebdo newspaper in Paris".
13. Members of the Muslim Advisory Council to the New York Police Department unequivocally denounced the shooting:
"Regardless of motive or rationalization or evidence or excuse, killing twelve innocent people to avenge Prophet Muhammad has no justification and must be condemned without citing any victimhood. At this moment of national grief we ask the French people not to allow this senseless violence perpetrated by three terrorists to put a wedge between peaceful French Muslims and the broader public. We call upon the authorities to swiftly apprehend the perpetrators who should be punished to the full extent of the French law".
14. Ashfaq Taufique, President, Birmingham Islamic Society, issued a statement:  
"This attack in no way represents the teachings of our beloved prophet Muhammad. There are many examples from the life of prophet where he could have responded physically to those who mocked him. On the contrary, he wished them well and prayed for them. Our heart goes out to those who were brutally murdered in this cowardice terrorist attack by the so called defenders of Islam".
15. Hassen Chalghoumi, Imam of the Drancy Mosque in Paris's Seine-Saint-Denis suburb, told France's BFMTV:
"Their barbarism has nothing to do with Islam. I am extremely angry. These are criminals, barbarians. They have sold their soul to hell. This is not freedom. This is not Islam and I hope the French will come out united at the end of this". 16. The Islamic Cooperation Organization condemned the terrorist attack in the strongest words. The 57-member organization said terrorist acts represent Islam's "biggest enemy" and are "incompatible with Islamic values and all human principles and ethics."  "OIC hopes that the culprits would soon be apprehended and presented to justice in France, conveying condolences to the families of the victims, the French government and people and wishing the injured quick recovery."
17. Sheikh Omar Suleiman, Director, the Islamic Learning Foundation, wrote on his Facebook page:
"What is more insulting to the Prophet (peace be upon him) than satirical cartoons are those who murder innocent people in his name. And We have sent you not (Oh Muhammad) but as a mercy to all the worlds" [Quran 21:107]
18. Amira Elghawaby, human rights co-ordinator, The National Council of Canadian Muslims, deplored the attack:
"We are absolutely shocked and horrified by what happened. It is an absolute tragedy and it is a crime. We are shaken up by what happened in Paris today. Our hearts and thoughts and prayers are with the victims and their families and the injured. We are hoping that whoever did this – the perpetrators of this crime – are quickly brought to justice".
19. Muslim Canadian Congress tweeted:
MCC condemns barbaric Islamist attack in Paris on Freedom of Expression #ParisShooting — Muslim Cdn Congress (@MCCongress) January 7, 2015
20. Al Azhar University, thousand-year-old seat of religious learning in Cairo that's respected by Muslims around the world, in a statement to Egypt's MENA State News Agency, said:
"The attack on Charlie Hebdo is a criminal act. Islam denounces any violence".
21. Malaysia's Prime Minister, Datuk Seri Najib Tun Razak, expressed his views in a tweet:
Msia condemns in the strongest terms all acts of violence. We stand in unity with the french people. We must fight extremism with moderation

— Mohd Najib Tun Razak (@NajibRazak) January 8, 2015
[He], ''strongly condemned the odious, cowardly terrorist attack".
23. Lebanese Prime Minister Tammam Salam:
"The attack was an unacceptable and unjustifiable terrorist act".
24. Lebanon's Foreign Ministry:
Expressed its "sympathies and full solidarity with the French government and people in their fight against terrorism," and urged international cooperation against terrorism so "its shrapnel won't hit the innocent anywhere else in the world".
25. Iranian President Hassan Rouhani:
"Those who kill and carry out violent and extremist acts unjustly in the name of jihad, religion or Islam provoke Islamophobia whether they wish it or not. "We are very happy that Muslim people in the region from Iraq, Syria, Lebanon and Palestine to Pakistan and Afghanistan resist extremism, violence and terrorism and achieve new victories on a daily basis".
"Such actions are a continuation of radical waves and physical aggressions which have spread throughout the world in the past decade, and incorrect policies and double standards in confronting extremism and violence have unfortunately given way to a spreading of such undertakings".
27. United Arab Emirates Foreign Ministry:
"The UAE strongly condemned the heinous terrorist act at the office of the French weekly Charlie Hebdo in Paris, in which scores of unarmed innocent civilians were killed and injured. Such appalling criminal acts require cooperation and solidarity at all levels to eradicate this menace".
28. Indonesia's Foreign Ministry:
[Indonesia], "condemns the attack" and "sends condolences to the government and people of France".
"These actions that targets civilians contravene all values and principles, moral and humanitarian".
30. Egyptian President Abdel Fattah al Sisi:
"Terrorism is an international phenomenon that should be faced and terminated through joint international effort".  
31. Egypt's Foreign Minister, Sameh Shoukry:
"Egypt stands by France in confronting terrorism, an international phenomenon that targets the world's security and stability and which requires coordinated international efforts to eradicate".
32. Turkish President Recep Tayyip Erdogan:
"The attack on the Charlie Hebdo magazine was "a heinous terrorist attack". "We extend our condolences to our friend and ally France and expect the perpetrators to be brought to justice as soon as possible. "Turkey has fought and will continue to fight against all forms of terrorism with determination. We express our heart-felt condolences for the innocent people killed today and wish a quick recovery for the injured. We also wish patience and steadfastness to the relatives of the deceased and the injured and to the people of France. "On this occasion, we would like to stress that terrorism has no religion or nationality and no excuse can be given for it. It is of crucial importance that we have a common stance against terrorist attacks such as the one in Paris today. We have to take a firm stance against hate speech, intolerance to differences and attempts to present religious and cultural differences as ground for enmity".
33. Turkey's Foreign Minister, Mevlut Cavusoglu:
"We, as Turkey, condemn with hatred any kind of terror… We are against any form of terror regardless of where it comes from and what its motives are".
34. Saudi Arabia:
"The kingdom…strongly condemns and denounces this cowardly terrorist act that is rejected by true Islamic religion as well as the rest of the religions and beliefs".
35. Palestinian Leader Mahmoud Abbas:
"The attacks were a heinous crime condemned by morality and religion".
36.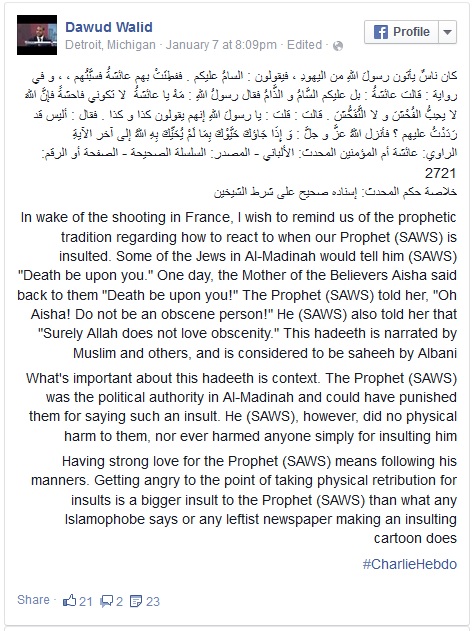 37.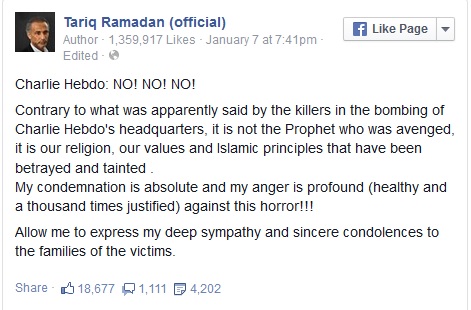 38. – 50. On Twitter too, Muslims expressed their condemnation and outrage.  
As a #muslim and #pakistani ,I condemn the #terrorist attack on #CharlieHebdo. #JeSuisCharlie #FreedomOfExpression pic.twitter.com/CUIYFQMypT — Sarah Mushir (@SarahMushir) January 7, 2015
as a #muslim i am offended by those images created by #CharlieHebdo But I am A million times more offended by the killings of innocent lives

— Almis A. Aman (@Almis310) January 8, 2015
I'm Muslim and I'm against terrorism .. all the muslims stand with the victims' families. #Paris_shooting #freedomofspeech — marouane bakit (@Marouane_bakit) January 7, 2015
I am a muslim and I am Charlie. I condemn any kind of violence against satirical criticism of my religion. RIP victims #JeSuisCharlie

— Risa Triandari (@risa_te) January 8, 2015
France, turning on your own Muslim citizens & "blaming Islam" for #CharlieHebdo feeds the extremists' agenda. Don't help them. — Wajahat Ali (@WajahatAli) January 7, 2015
As a Muslim and as a Turk, I condemn the terrorist attack on #CharlieHebdo Standing with people of all faiths in unity #NotInMyName

— Memz Dogi (@Memz_Dogi) January 8, 2015
As a Muslim, I condemn the cruel attack on #CharlieHebdo & offer condolences to the French people. The "Islam" of the murderers is not mine. — Mustafa Akyol (@AkyolinEnglish) January 7, 2015
Our Prophet used to pray for the person who mocked him, he NEVER killed anyone or ordered this. #FranceShooting #NotInMyName RIP the victims

— #NotInMyName (@psLoveAishah) January 7, 2015
Sheer madness, mind boggling that people will kill over a cartoon. So far from any faith they claim to belong to. #NotInMyName — Sabbiyah Pervez (@sabbiyah) January 7, 2015
The attack on #CharlieHebdo is the attack on every Muslim living in Europe. Those who did this henious crime are cowards #notinmyname

— Mirnes Kovac (@MirnesKovac) January 7, 2015
As a Muslim, I absolutely refuse to apologize for this terrorist act. But as a Muslim,I demand justice for the victims& say: #JeSuisCharlie — Hend (@LibyaLiberty) January 7, 2015
A small tribute to the victims of #CharlieHebdo As A Muslim I condemn this barbarous attack. pic.twitter.com/5v5hBnMqVE

— Sheheryar Ahmad (@sheriahmad) January 7, 2015
My family is French. My family is Muslim. I am a journalist. We are grieving. #CharlieHebdo — Farran Nehme (@selfstyledsiren) January 7, 2015
Related Articles:
The Dark Truth: The Terrorist Trio of Charlie Hebdo Massacre Were Radicalized In Paris
Here's What Motivated The Charlie Hebdo Murderers
Charlie Hebdo Fired 'Anti-Semitic' Cartoonist For Ridiculing Judaism In 2009
France Is Now Facing Its First Post–Charlie Hebdo Free Speech Dilemma
Muslim Mayor of Rotterdam Tells Radical Islamists To F*** Off On Live TV
Catholic League Defends Murders at Charlie Hebdo
#CharlieHebdo Shooting Suspect #MouradHamydInnocent? Classmates Defend The Teenager on Twitter
Terrorists' Slaughter of French Journalists Boosts Europe's Racist Far-Right
The Muslim Heroes of the Paris Terror Attacks
10 Things The Media Won't Be Talking About After The Paris Terror Attack
________________________________________________________________________________
Source:
http://www.alternet.org/media/45-examples-muslim-outrage-about-charlie-hebdo-attack-fox-news-missed