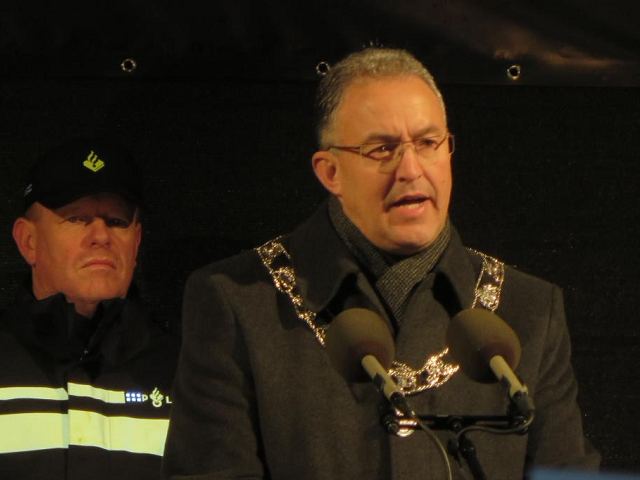 Moroccan-born Ahmed Aboutaleb, Mayor of Rotterdam, stunned a live TV audience by telling the Muslims who detest Western culture to "pack their bags" and "f*** off". Aboutaleb, himself a Muslim, told Dutch news programme Nieuwsuur (News Hour), "It is incomprehensible that you can turn against freedom. But if you do not like freedom, in Heaven's name pack your bag and leave.
"There may be a place in the world where you can be yourself, be honest with yourself and do not go and kill innocent journalists. And if you do not like it here because humorists you do not like make a newspaper, may I then say you can f*** off.
"This is stupid, so incomprehensible, go away if you can't find your place in the Netherlands, or accept the society we want to build here, because we only want people, including all those Muslims, and all those well-intentioned Muslims, who may be looked at with suspicion, we want to keep all those people together in what I call the We Society".

Aboutaleb earned the praise of London mayor Boris Johnson who called him his hero – the man who got straight to the point. Boris added, "That is the voice of the Enlightenment, of Voltaire. We can and will protect this country against these jihadist thugs. We will bug them and monitor them and arrest them and prosecute them and jail them. But if we are going to win the struggle for the minds of these young people, then that is the kind of voice we need to hear – and it needs above all to be a Muslim voice".
The Mayor of Rotterdam earned the praise of Twitterati too:
OH SNAP!!! "It is incomprehensible that you can turn against freedom," Mayor #AhmedAboutaleb told news program. #YCOT pic.twitter.com/PpKpNzknOF

— Republican Thinker (@GOP_Thinker) January 14, 2015
Hats off to a Muslim leader who in fact vocally supports secularism: http://t.co/gXvH9l4y0P — Sean Faircloth (@seanfaircloth) January 13, 2015
Muslim mayor of Dutch city tells extremists to "f* off" on live TV! (We Muslims do speak out – colorfully, thanks) http://t.co/aht6o0LFhf

— Raquel E Saraswati (@RaquelEvita) January 13, 2015
#London Mayor Boris Johnson names #Rotterdam Mayor Ahmed Aboutaleb "My hero – the man who got straight to the point" http://t.co/R4ksxcmWhZ — Dan Pointer (@danpointer) January 13, 2015
Aboutaleb's passionate rant was in response to January 7's terrorists attack on Charlie Hebdo's office in Paris that barbarically killed 12 people. The Islamist attackers had come to take revenge from the cartoonists for hurting their religion and making a mockery of Islamic Prophet Muhammad.
Aboutaleb, son of an imam, was appointed mayor of Rotterdam in 2008 – the first Muslim immigrant to lead a major Dutch city in which ethnic minorities and non-natives make up over half of the population. During the national uproar after the 2004 slaying of anti-Islamic filmmaker Theo van Gogh by a Muslim extremist, Aboutaleb sternly told Dutch Muslims that if they did not subscribe to the Netherlands' values of tolerance and openness, they ought to catch the first plane out.
Related Articles:
Charlie Hebdo Fired 'Anti-Semitic' Cartoonist For Ridiculing Judaism In 2009
French Website Gets Tim Cook Approve Je Suis Charlie App In One Hour
JK Rowling's Tweet Shuts Down Rupert Murdoch's Anti-Muslim Rhetoric
10 Things The Media Won't Be Talking About After The Paris Terror Attack
Anti-Muslim Attacks After The Charlie Hebdo Massacre
Catholic League Defends Murders at Charlie Hebdo
#CharlieHebdo – Muslim Woman Apologises To The World In The Name Of Muslims
#JESUISAHMED|Story Of The French Police Officer Who Was Gunned Down While Saving Charlie Hebdo
Muslim Activist Tweets What's Most Offensive About The Paris Shooting
Here's How Arab Newspapers Reacted to The #CharlieHebdo Massacre
#CharlieHebdo Shooting Suspect #MouradHamydInnocent? Classmates Defend The Teenager on Twitter
Terrorists' Slaughter of French Journalists Boosts Europe's Racist Far-Right
US Politicians Take Advantage of France Terror Attack to Call for More NSA Spying
Paris Unity March | More Than 3.7 Million Attended
The Muslim Heroes of the Paris Terror Attacks
__________________________________________________________________________
Source:
http://www.breitbart.com/london/2015/01/12/muslim-mayor-of-rotterdam-tells-islamists-to-f-off-on-live-television/